Nicholas Balthaser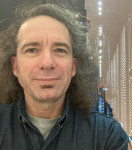 Storage Systems Analyst
Storage Systems Group
1 Cyclotron Road
Mailstop: 59R4010A
Berkeley
,
CA
94720
us
Biographical Sketch
Nick joined the Storage Systems Group in 2007. His responsibilities include system design, deployment, and DevOps support for hundreds of petabytes of active archival storage. Prior work at NERSC includes Linux compute platform and Center infrastructure support in the Computational Systems and Infrastructure Services groups.
Presentation/Talks
Reports
GK Lockwood, D Hazen, Q Koziol, RS Canon, K Antypas, J Balewski, N Balthaser, W Bhimji, J Botts, J Broughton, TL Butler, GF Butler, R Cheema, C Daley, T Declerck, L Gerhardt, WE Hurlbert, KA Kallback-Rose, S Leak, J Lee, R Lee, J Liu, K Lozinskiy, D Paul, Prabhat, C Snavely, J Srinivasan, T Stone Gibbins, NJ Wright,
"Storage 2020: A Vision for the Future of HPC Storage",
October 20, 2017,
LBNL LBNL-2001072,
As the DOE Office of Science's mission computing facility, NERSC will follow this roadmap and deploy these new storage technologies to continue delivering storage resources that meet the needs of its broad user community. NERSC's diversity of workflows encompass significant portions of open science workloads as well, and the findings presented in this report are also intended to be a blueprint for how the evolving storage landscape can be best utilized by the greater HPC community. Executing the strategy presented here will ensure that emerging I/O technologies will be both applicable to and effective in enabling scientific discovery through extreme-scale simulation and data analysis in the coming decade.
N. Balthaser, D. Hazen,
"HSI Best Practices for NERSC Users",
May 2, 2011,
LBNL 4745E,
In this paper we explain how to obtain and install HSI, create a NERSC authentication token, and transfer data to and from the system. Additionally we describe methods to optimize data transfers and avoid common pitfalls that can degrade data transfers and storage system performance.