Ravi Cheema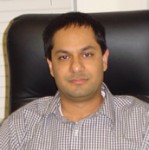 Storage Systems Group
National Energy Research Scientific Computing Center
Lawrence Berkeley National Laboratory
1 Cyclotron Road
Mail Stop 100PGF
Berkeley
,
CA
94720
Biographical Sketch
Ravi currently works in NERSC Storage Group and shares responsibility to support, deploy and develop NERSC Global Filesystems. He is also the primary point of contact for supporting storage for Joint Genome Institute and NERSC Data Transfer nodes.
Presentation/Talks
J. Hick, R. Lee, R. Cheema, K. Fagnan,
GPFS for Life Sciences at NERSC,
GPFS User Group Meeting,
May 20, 2015,
A report showing both high and low-level changes made to our life sciences workloads to support them on GPFS file systems.
Reports
Glenn K. Lockwood, Damian Hazen, Quincey Koziol, Shane Canon, Katie Antypas, Jan Balewski, Nicholas Balthaser, Wahid Bhimji, James Botts, Jeff Broughton, Tina L. Butler, Gregory F. Butler, Ravi Cheema, Christopher Daley, Tina Declerck, Lisa Gerhardt, Wayne E. Hurlbert, Kristy A. Kallback-
Rose, Stephen Leak, Jason Lee, Rei Lee, Jialin Liu, Kirill Lozinskiy, David Paul, Prabhat, Cory Snavely, Jay Srinivasan, Tavia Stone Gibbins, Nicholas J. Wright, "Storage 2020: A Vision for the Future of HPC Storage",
October 20, 2017,
LBNL LBNL-2001072,
As the DOE Office of Science's mission computing facility, NERSC will follow this roadmap and deploy these new storage technologies to continue delivering storage resources that meet the needs of its broad user community. NERSC's diversity of workflows encompass significant portions of open science workloads as well, and the findings presented in this report are also intended to be a blueprint for how the evolving storage landscape can be best utilized by the greater HPC community. Executing the strategy presented here will ensure that emerging I/O technologies will be both applicable to and effective in enabling scientific discovery through extreme-scale simulation and data analysis in the coming decade.