Jack Deslippe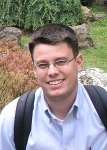 Group Leader
1 Cyclotron Road
Mailstop: 59R4010A
Berkeley
,
CA
94720
US
Biographical Sketch
Jack Deslippe specializes in the support of material science applications and users at NERSC. He is engaged in evaluating and improving the suitability of these applications for potential N8 architectures. He additionally works on bringing dynamic web-content to users through MyNERSC, the MOTD system, Completed Jobs Pages, ALS Science Gateway Projects and the NERSC mobile site, m.nersc.gov.
Jack is a PI on a SCIDAC project (http://excited-state-scidac.org/) and is one of the lead developers of the BerkeleyGW package for computing the excited state properties of materials.
Jack is the NERSC PI on the Berkeley Lab Directed Research project that is delivering real-time data analysis to ALS scientists through ESNET and NERSC resources. He is the developer the ALS analysis and simulation web-portal at NERSC.
He received a Ph.D. from UC Berkeley in physics in 2011. His research centered on materials physics and nano-science: scaling many-body Green's function computational methods for the study of the optical properties of materials with large and complex structures.
Journal Articles
Yun (Helen) He, Brandon Cook, Jack Deslippe, Brian Friesen, Richard Gerber, Rebecca Hartman­-Baker, Alice Koniges, Thorsten Kurth, Stephen Leak, Woo­Sun Yang, Zhengji Zhao, Eddie Baron, Peter Hauschildt,

"Preparing NERSC users for Cori, a Cray XC40 system with Intel Many Integrated Cores",

Concurrency and Computation: Practice and Experience,

August 2017,

30

, doi: 10.1002/cpe.4291
The newest NERSC supercomputer Cori is a Cray XC40 system consisting of 2,388 Intel Xeon Haswell nodes and 9,688 Intel Xeon‐Phi "Knights Landing" (KNL) nodes. Compared to the Xeon‐based clusters NERSC users are familiar with, optimal performance on Cori requires consideration of KNL mode settings; process, thread, and memory affinity; fine‐grain parallelization; vectorization; and use of the high‐bandwidth MCDRAM memory. This paper describes our efforts preparing NERSC users for KNL through the NERSC Exascale Science Application Program, Web documentation, and user training. We discuss how we configured the Cori system for usability and productivity, addressing programming concerns, batch system configurations, and default KNL cluster and memory modes. System usage data, job completion analysis, programming and running jobs issues, and a few successful user stories on KNL are presented.
Taylor A. Barnes, Thorsten Kurth, Pierre Carrier, Nathan Wichmann, David Prendergast, Paul RC Kent, Jack Deslippe,
"Improved treatment of exact exchange in Quantum ESPRESSO.",
Computer Physics Communications,
May 31, 2017,
MeiYue Shao, Lin Lin, Chao Yang, Fang Liu, Felipe H. Da Jornada, Jack Deslippe, Steven G. Louie,
"Low rank approximation in G0W0 calculations.",
Science China Mathematics,
August 1, 2016,
SV Venkatakrishnan, K Aditya Mohan, Keith Beattie, Joaquin Correa, Eli Dart, Jack R Deslippe, Alexander Hexemer, Harinarayan Krishnan, Alastair A MacDowell, Stefano Marchesini, Simon J Patton, Talita Perciano, James A Sethian, Rune Stromsness, Brian L Tierney, Craig E Tull, Daniela Ushizima, Dilworth Y Parkinson,

"Making Advanced Scientific Algorithms and Big Scientific Data Management More Accessible",

Electronic Imaging,

February 14, 2016,

2016 Is.

:

1,
Michiel J van Setten, Fabio Caruso, Sahar Sharifzadeh, Xinguo Ren, Matthias Scheffler, Fang Liu, Johannes Lischner, Lin Lin, Jack R Deslippe, Steven G Louie, Chao Yang, Florian Weigend, Jeffrey B Neaton, Ferdinand Evers, Patrick Rinke,

"GW 100: Benchmarking G 0 W 0 for molecular systems",

Journal of chemical theory and computation,

October 22, 2015,

11

:

5665,
Fang Liu, Lin Lin, Derek Vigil-Fowler, Johannes Lischner, Alexander F. Kemper, Sahar Sharifzadeh, Felipe Homrich da Jornada, Jack Deslippe, Chao Yang, Jeffrey B. Neaton, Steven G. Louie,
"Numerical integration for ab initio many-electron self energy calculations within the GW approximation.",
Journal of Computational Physics,
April 1, 2015,
Jack Deslippe, Georgy Samsonidze, Manish Jain, Marvin L Cohen, Steven G Louie,
"Coulomb-hole summations and energies for GW calculations with limited number of empty orbitals: a modified static remainder approach",
Physical Review B (arXiv preprint arXiv:1208.0266),
2013,
Jack Deslippe, Georgy Samsonidze, David Strubbe, Manish Jain, Marvin L. Cohen, Steven G. Louie,
"BerkeleyGW: A Massively Parallel Computer Package for the Calculation of the Quasiparticle and Optical Properties of Materials",
Comput. Phys. Comm.,
2012,
Johannes Lischner, Jack Deslippe, Manish Jain, Steven G Louie,

"First-Principles Calculations of Quasiparticle Excitations of Open-Shell Condensed Matter Systems",

Physical Review Letters,

2012,

109

:

36406,
Kaihui Liu, Jack Deslippe, Fajun Xiao, Rodrigo B Capaz, Xiaoping Hong, Shaul Aloni, Alex Zettl, Wenlong Wang, Xuedong Bai, Steven G Louie, others,

"An atlas of carbon nanotube optical transitions",

Nature Nanotechnology,

2012,

7

:

325--329,
Georgy Samsonidze, Manish Jain, Jack Deslippe, Marvin L Cohen, Steven G Louie,

"Simple Approximate Physical Orbitals for GW Quasiparticle Calculations",

Physical Review Letters,

2011,

107

:

186404,
David A Siegel, Cheol-Hwan Park, Choongyu Hwang, Jack Deslippe, Alexei V Fedorov, Steven G Louie, Alessandra Lanzara,

"Many-body interactions in quasi-freestanding graphene",

Proceedings of the National Academy of Sciences,

2011,

108

:

11365--113,
Li Yang, Jack Deslippe, Cheol-Hwan Park, Marvin L Cohen, Steven G Louie,

"Excitonic effects on the optical response of graphene and bilayer graphene",

Physical review letters,

2009,

103

:

186802,
Jack Deslippe, Mario Dipoppa, David Prendergast, Marcus VO Moutinho, Rodrigo B Capaz, Steven G Louie,

"Electron-Hole Interaction in Carbon Nanotubes: Novel Screening and Exciton Excitation Spectra",

Nano Lett,

2009,

9

:

1330--1334,
Jack Deslippe, Catalin D Spataru, David Prendergast, Steven G Louie,

"Bound excitons in metallic single-walled carbon nanotubes",

Nano letters,

2007,

7

:

1626--1630,
Feng Wang, David J Cho, Brian Kessler, Jack Deslippe, P James Schuck, Steven G Louie, Alex Zettl, Tony F Heinz, Y Ron Shen,

"Observation of excitons in one-dimensional metallic single-walled carbon nanotubes",

Physical review letters,

2007,

99

:

227401,
Jack Deslippe, R Tedstrom, Murray S Daw, D Chrzan, T Neeraj, M Mills,

"Dynamic scaling in a simple one-dimensional model of dislocation activity",

Philosophical Magazine,

2004,

84

:

2445--2454,
Conference Papers
Book Chapters
Jack Deslippe, Doug Doerfler, Brandon Cook, Tareq Malas, Samuel Williams, Sudip Dosanjh,

"Optimizing Science Applications for the Cori, Knights Landing, System at NERSC",

Advances in Parallel Computing, Volume 30: New Frontiers in High Performance Computing and Big Data,

(

January 1, 2017

)
Sudip Dosanjh, Shane Canon, Jack Deslippe, Kjiersten Fagnan, Richard Gerber, Lisa Gerhardt, Jason Hick, Douglas Jacobsen, David Skinner, Nicholas J. Wright,

"Extreme Data Science at the National Energy Research Scientific Computing (NERSC) Center",

Proceedings of International Conference on Parallel Programming – ParCo 2013,

(

March 26, 2014

)
Presentation/Talks
Thorsten Kurth, Joshua Romero, Everett Phillips, and Massimiliano Fatica, Brandon Cook, Rahul Gayatri, Zhengji Zhao, and Jack Deslippe,
Porting Quantum ESPRESSO Hybrid Functional DFT to GPUs Using CUDA Fortran,
Cray User Group Meeting, Montreal, Canada,
May 5, 2019,
Richard A. Gerber, Jack Deslippe,
Manycore for the Masses Part 2,
Intel HPC DevCon,
November 11, 2017,
Yun (Helen) He, Jack Deslippe,
Enabling Applications for Cori KNL: NESAP,
September 21, 2017,
R Gerber, J Deslippe, D Doerfler,
Many Cores for the Masses: Lessons Learned from Application Readiness Efforts at NERSC for the Knights Landing based Cori System,
Intel HPC Developers Conference,
November 12, 2016,
Jack Deslippe, NERSC,
Preparing Applications for Future NERSC Architectures,
February 6, 2014,
Jack Deslippe,
Building Applications on Edison,
October 10, 2013,
Megan Bowling, Zhengji Zhao and Jack Deslippe,
The Effects of Compiler Optimizations on Materials Science and Chemistry Applications at NERSC,
A talk in the Cray User Group meeting, Apri 29-May-3, 2012, Stuttgart, German.,
May 3, 2012,
Jack Deslippe, Manish Jain, Georgy Samsonidze, Marvin Cohen, Steven Louie,
The sc-COHSEX+ GW and the static off-diagonal GW approaches to quasiparticle wavefunctions and energies,
Bulletin of the American Physical Society,
2011,
Jack Deslippe, Cheol-Hwan Park, Manish Jain, Steven Louie,
First-principles Calculations of the Quasiparticle and Optical Excitations in Metallic Carbon Nanostructures,
Bulletin of the American Physical Society,
2010,
Jack Deslippe, David Prendergast, Steven Louie,
Nonlinear Optical Properties of Carbon Nanotubes from First Principles,
Bulletin of the American Physical Society,
2009,
Jack Deslippe, Mario Dipoppa, David Prendergast, Rodrigo Capaz, Steven Louie,
Effective One-Dimensional Electron-Hole Interaction in Single-Walled Carbon Nanotubes,
Bulletin of the American Physical Society,
2008,
Jack Deslippe, David Prendergast, Steven Louie,
Electron Self-Energy Corrections to Quasiparticle Excitations in Graphene and Large Diameter Single-Walled Carbon Nanotubes,
Bulletin of the American Physical Society,
2007,
Jack Deslippe, Catalin Spataru, Steven Louie,
Bound excitons and optical absorption spectra of (10, 10) metallic single-walled carbon nanotubes,
Bulletin of the American Physical Society,
2006,
Deslippe Jack, Jianjun Dong,
First principles calculations of thermodynamical properties of cage-like silicon clathrate materials,
APS Meeting Abstracts,
Pages: 25002
2003,