Stefan Lasiewski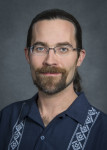 Sr Computer Systems Engineer
Infrastructure Services
National Energy Research Scientific Computing Center
Lawrence Berkeley National Laboratory
1 Cyclotron Road
Mailstop 59R4010A 
Berkeley
,
CA
94720
us
Biographical Sketch
Stefan Lasiewski is a Senior Systems Engineer in the Infrastructure Services Group at NERSC. The six members of this group are responsible for:
Web Servers, Database Servers, Email Infrastructure, Scientific Gateways, LDAP, NIM Account Management, Networking, Security & other services.
Configuration management using CFEngine and Puppet. System monitoring using Nagios, Cacti & Splunk.
Interfacing with other NERSC & LBL staff for cross-group and cross-division projects.
Current projects include building a Docker-based container infrastructure to host publicly available web services, virtualization, DevOps and automation.
Before NERSC, Stefan has worked in the private sector for organizations with a strong public mission. Stefan's system administration career began at the Institution of Global Communications, which provided the first online presence for many non-profit and international non-governmental organization. Most recently Stefan worked at Convio (Now BlackBaud) where he maintained high-availability SaaS, CRM, email and CMS applications for some the largest nonprofit organizations in the United States. His primary focus over the years has been High Availability Web applications, configuration management and system monitoring.