Gabriel Evanoff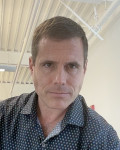 Sr Computer Systems Engineer
Infrastructure Services
National Energy Research Scientific Computing Center
Lawrence Berkeley National Laboratory
1 Cyclotron Road
Mailstop 59R4010A 
Berkeley
,
CA
94720
us
Biographical Sketch
Gabriel Evanoff is a Unix systems engineer with over 15 years of experience. Over his career, he has built complete IT infrastructures from the ground up, launched multiple startups, and worked at the largest scales for industry leaders.
After a brief stint in biotech and biological research, he made the transition to systems administration. He continued to support research as an IT professional over the course of 5 years at the Salk Institute for Biological Studies in La Jolla, CA. He later moved to San Francisco and the private sector, first as a member of the team that launched Beats Music, then as part of the group building and maintaining Apple's internal cloud infrastructure. Later, at Pandora Music, he focused on configuration management, system imaging, metrics collection, and monitoring.
After nine years, Gabriel returns to the scientific research community in 2023, working with the Infrastructure Services Group for NERSC to support the world class research conducted at the facility.