Daan Camps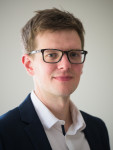 Advanced Technology Group
National Energy Research Scientific Computing Center
1 Cyclotron Road
Mailstop: 59R4104
Berkeley
,
CA
94720
us
Daan Camps is a staff member in the Advanced Technology Group at NERSC. His work focuses on integrating emerging quantum technologies in future generation HPC systems.
Recent software projects:
 More info at: campsd.github.io
Research Interests
---
Numerical Linear Algebra
(Non-Linear) Tensor Factorization Methods
Quantum Algorithms
Quantum Circuit Synthesis
Scientific Machine Learning and Optimization
Randomized Algorithms
Numerical Software and Numerical Analysis
Positions
---
Staff, Advanced Technologies Group, NERSC, Berkeley Lab, April 2022 - Present.
Postdoctoral Scholar

, 

Computational Research Division

, Berkeley Lab, November 2019 - April 2022.

PhD Researcher, Department of Computer Science, KU Leuven, September 2015 - September 2019.
Education
---
Doctor of Philosophy (PhD): Computer Science
2015-2019, KU Leuven, Belgium.
Master of Engineering: Mathematical Engineering
2011-2013, KU Leuven, Belgium.
Master of Science: Astronomy
2009-2011, KU Leuven, Belgium.
Bachelor of Science: Physics
2006-2010, UHasselt, Belgium.
Journal Articles
Thesis/Dissertations
Pole swapping methods for the eigenvalue problem - Rational QR algorithms,
Daan Camps,
2019,