Urjoshi Sinha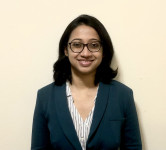 HPC Engineer
Data & Analytics Services
NERSC
Interests
Data-Driven Software Engineering, Database Systems
Publications
S Purandare , U Sinha , MNA Islam , J Cleland-Huang, M Cohen, Self-Adaptive Mechanisms for Misconfigurations in Small Uncrewed Aerial Systems, 18th International Symposium on Software Engineering for Adaptive and Self-Managing Systems (SEAMS 2023), Research Track, May 15, Melbourne, Australia. [Best Paper Award]

J Cleland-Huang, N Chawla, MB Cohen, MNA Islam, U Sinha, L Spirkovska, Y Ma, S Purandare, MT Chowdhury, Towards Real-Time Safety Analysis of Small Unmanned Aerial Systems in the National Airspace, American Institute of Aeronautics and Astronautics (AIAA 2022) Aviation Forum: Air Transportation Systems, May 2022, Chicago, IL.

U Sinha, M Cashman, MB Cohen, Using a Genetic Algorithm to Optimize Configurations in a Data-driven Application, International Symposium on Search-Based Software Engineering (SSBSE 2020), Research Track, Oct 2020, pp. 137-152.