The NERSC Allocation Request Form (ERCAP)
Initial requests to use NERSC resources can be submitted at any time. Renewals for approved projects are required annually. Allocation requests are made via a web form known as the ERCAP (Energy Research Computing Allocations Process) Request Form.
If you are new to NERSC, please read Applying for your First NERSC Allocation.
Preparing an ERCAP Request
The procedures for starting an ERCAP request for a new project, renewing a project and editing an in-progress request that you previously saved are described below.
Point your browser to https://ercap.nersc.gov and log in. If you don't see the page shown below, click on "ERCAP Requests" from the list of items in the left-hand navigation menu and chose "Manage My Requests". (If you don't see the left-hand navigation menu, you may need to click on a little icon with an arrow within a circle at the bottom left of your browser screen.)

Choose from the following items:

If you are renewing a current project, select "Renew a Previous Year's Request" from the navigation menu or click on the "Request a Project Renewal for 20XX" button - this will pre-fill some of the form questions based on your existing project and previous ERCAP request.

If you are returning to continue work on a draft request you started earlier, choose "Manage My Requests" and find your request in the "Draft Requests" section. Choose the request to continue editing by clicking its ERCAP Number link.

For a completely new project, select "Create a New Request AY20XX" from the navigation menu or click on the "Request a New Project 20XX" button. Be sure to select the proper Allocation Year when you fill out the ERCAP form. Requests for the next year are accepted starting each fall.

When your request is ready to submit, click on the "Submit for Review" button.
Saving Your Work for Later
At any time you can save the request and return later. Click on the "Save as Draft" button.
Attaching Supporting Documents
For longer questions, you can attach supporting documentation to the request. Look for the "paperclip" at the top of the page and click on it to upload your documents. After uploading the documents, click on the "X" to close the upload window.

More Helpful Features
We tried to make the form as easy to use and intuitive as possible. We have included many built-in mechanisms to assist you:
Colorful help text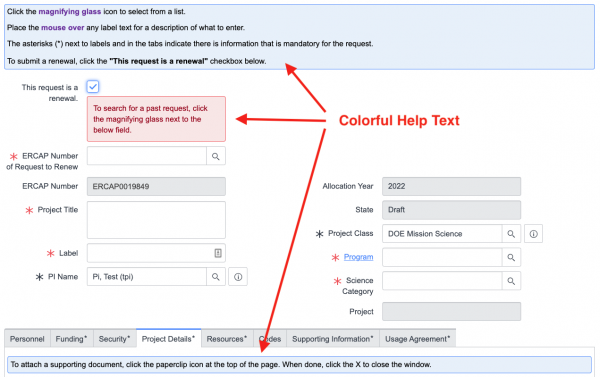 Asterisks to indicate missing mandatory data next to questions and in the tabs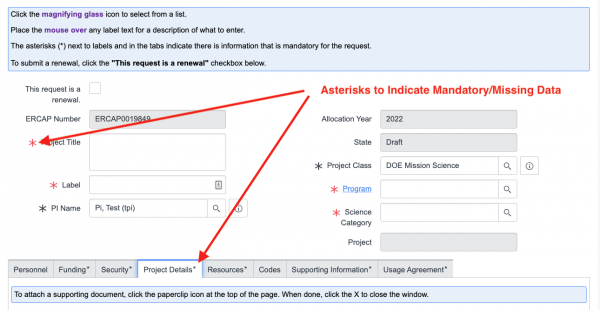 Hover text and Info links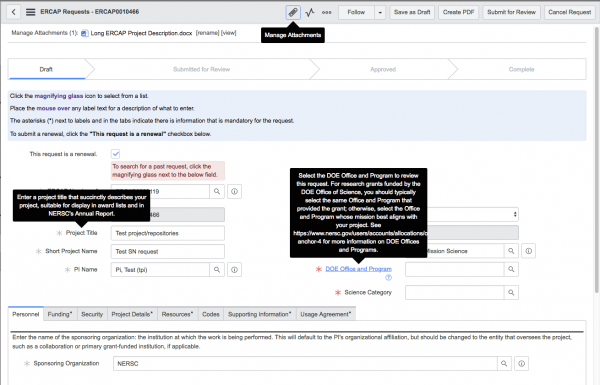 Multiple options for searching through lists
In any field that has a "magnifying glass" to the right of the field, you can view a short list by typing in two asterisks or filter the list by entering a word phrase, or you can pop-up a full list by clicking on the magnifying glass. Once you have the full list, you can further search on a word or phrase: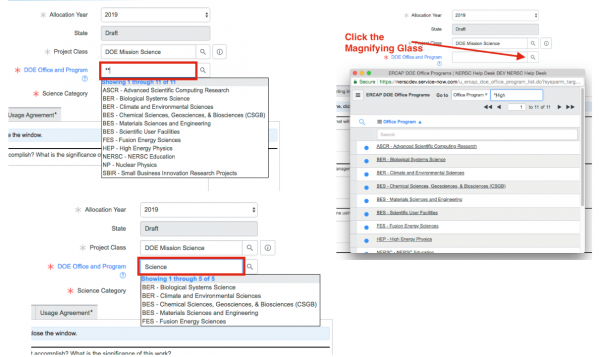 Lookup for previous requests when renewing
If you are creating a renewal request, once you are in the ERCAP form, you will see a box with the label "ERCAP Number of Request to Renew". You can search through your requests from the previous two years by clicking on the magnifying glass symbol. A pop-up window will show a list of your previous requests that are available to be renewed. Click on the ERCAP number link to select the request.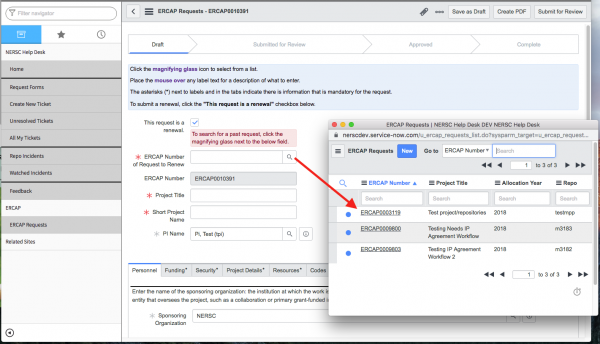 Answering ERCAP Request Questions
Project Title and Label
Please choose a project title that succinctly describes your project, suitable for display in award lists and in NERSC's Annual Report. The NERSC Project Title is not required to match the title of any existing DOE grant or project. The Title is limited to 256 characters; shorter titles are preferable (100 or fewer characters). In summary, the title should be short and descriptive.
Also choose a short project label (10 characters maximum) that uniquely identifies your project. It is usually used in lists and reports where including the entire Project Title is too long or cumbersome. Examples of such project names are "MPICH" (for the project that supports MPICH software development) and "STAR" (for the project that analyzes data from the STAR experiment). If you wish, you may use a repository name as your project name.
Principal Investigator
The Principal Investigator, commonly referred to as the PI, is responsible for the project and for managing any resources awarded to the project. The PI is usually one of the PIs on a grant listed on the Funding tab.
If your project has multiple PIs, please pick one to be the NERSC PI. Other PIs can be listed as Senior Investigators under the Personnel tab. Senior Investigators are the key contributors in your project.
Project Class
Choose one of the following:
DOE Mission Science: for projects that support science of interest to one of the DOE Offices of Science programs, or the SBIR program, See Eligibility and DOE Mission.
Education: for projects that support teaching related to High Performance Computing.
Exploratory: for PIs who wish to investigate using NERSC resources for new projects, or who wish to port or develop new codes. The maximum Exploratory awards are 250 Node hours and 1 TB of archival storage space in HPSS. In the next field, you must select the DOE Office of Science program that you received your funding from or that will be overseeing your research in the future.
Program
Select the DOE Program to review your request.
If you are not funded by the DOE Office of Science, see Eligibility
Science Category
Select the Science Category that best categorizes your project. You can Search through the entire list of Science Categories, or you can reduce your search by entering a significant term to see the categories that contain that term:

Following is the full list of Science Categories for AY 2021/22:
Applied Mathematics : Algorithms and Libraries
Applied Mathematics : Data Analytics and Machine Learning
Applied Mathematics : General
Applied Mathematics : Numerical Optimization
Applied Mathematics : Uncertainty Quantification and Statistics
Biosciences : Bioenergy
Biosciences : General
Biosciences : Genomics
Biosciences : Molecular Science
Chemistry : Biochemistry
Chemistry : Catalysis
Chemistry : Chemical Physics
Chemistry : General
Chemistry : Photosynthetic Systems
Chemistry : Physical Chemistry
Computer Science : Data and I/O
Computer Science : General
Computer Science : Hardware and Architecture
Computer Science : Optimization and Tuning
Computer Science : Quantum and Neuromorphic
Computer Science : Systems Software and Programming Environments
Computer Science : Visualization
Earth Systems : Atmosphere
Earth Systems : Coupled Systems
Earth Systems: Ocean - Cryosphere
Earth Systems : Terrestrial
Earth and Environmental Systems
Energy : Combustion
Energy : Fossil Fuels
Energy : Fusion
Energy : General
Energy : Nuclear Energy
Energy : Renewable
Engineering : General
Geoscience : General
Geoscience : Geochemistry
Geoscience : Geophysics
Materials Science : Biomolecular Materials
Materials Science : Energy Storage
Materials Science : General
Materials Science : Materials Chemistry
Materials Science : Nanomaterials
Materials Science : Soft Matter
Other
Physics : Accelerator Science
Physics : Astrophysics
Physics : Condensed Matter
Physics : Cosmology
Physics : General
Physics : High Energy Physics (Experimental)
Physics : High Energy Physics (Theory)
Physics : Nuclear Physics (Experimental)
Physics : Nuclear Physics (Theory)
Physics : Plasma Physics
Scientific User Facilities
Social Sciences
Personnel Tab
Senior Investigators
Senior Investigators are the key contributors in your project. Please list them by name, organization, email address.
Authorized Preparers
A Principal Investigator can designate one or more Authorized Preparers who help to fill out the ERCAP request form. You can add an Authorized Preparer to your ERCAP request by searching the available NERSC users. You can start the search by typing in the person's name in the Search field (with the magnifying glass symbol at the far right) or by clicking on the magnifying glass for a more advanced search.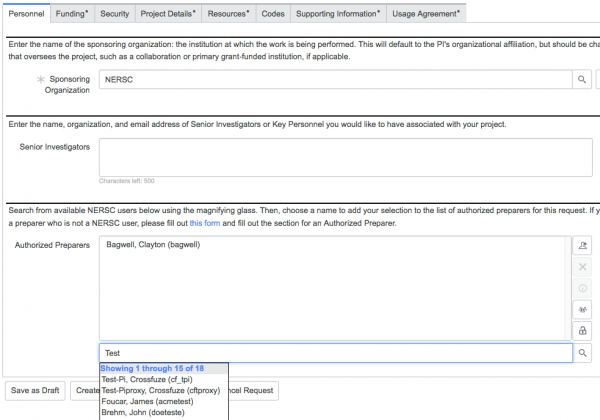 Funding Tab
Click on the checkbox next to ALL of the entities that provide funding for your project. Once you click on a checkbox, you will be asked to provide additional information.
DOE Office of Science funding
Funding Office
Funding Program Manager: If your Program manager is not listed, use the "Not Listed" option.
DOE/SC Grant, PAMS, and/or FWP numbers
Federal Agency other than DOE/SC
Grants supported by areas of DOE outside the Office of Science (e.g. Office of Nuclear Energy, Science, and Technology; Office of Energy Efficiency and Renewable Energy) and other federal agencies: e.g. NASA, NSF, NOAA, etc., you can select more than one Federal Agency. Be sure to identify which agency each grant number is from.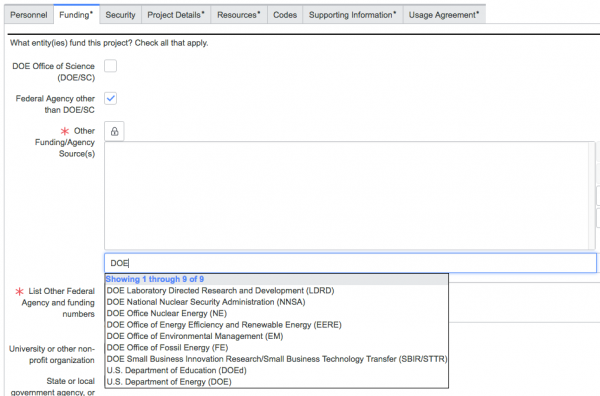 Other funding options:
LDRD Funding
State or local government or agency
Foreign government or agency
University
Non-profit Organization
Other
For projects not funded by DOE/SC, please describe the project's relevance to one of the DOE Office of Science programs and the mission of that program.
PLEASE NOTE: The purpose of this section is to state how the goals of your project overlap with or align with the mission of the DOE Office of Science. Your request will be evaluated partly on the basis of alignment with a DOE program mission. Find one of the mission statements and give just two or three sentences stating how and why your work is related to it. You will have ample opportunity to describe your project's overall importance and impact in the Project Details Tab. Please do not include that information here.
Security Tab
NERSC supports only open research intended to be published in open scientific journals. Proprietary research is not allowed.
In addition, NERSC does not allow the use of the following:
Classified or controlled military or defense information
Export controlled or ITAR (International Traffic in Arms Regulations) information
Personally identifiable information
Protected health information
You must select one of the two options: "I attest that this project adheres to these guidelines", or "I request an exception to these policies, based on the following:". If you select the latter option, you will be given a text box to explain your answer. If necessary, NERSC will contact you for more information.
Project Details Tab
Summary and Goals
Please provide a succinct description of your project that is suitable for the general public (i.e., at a Scientific American level of sophistication). This description should emphasize what the project expects to accomplish and the significance of the work.
Detailed Description
Provide a more technically detailed explanation of your research for review by the DOE managers.
Website URL
All projects should provide a project URL; these are useful in obtaining additional information about a project (e.g. when responding to queries for information).
Additional Fields Required for Renewal Requests
Accomplishments Summary
Summarize in non-technical terms the accomplishments made by this project using NERSC resources in the previous year. Explain why your results are important and how the use of NERSC resources allowed you to meet your research objectives. This is optional for Educational and new Exploratory requests.
You can include a long, technical description of your project's accomplishments as a PDF document to upload. Find the paperclip at the top of the page.
Refereed Publications
List all refereed publications in the last 12 months based on research using NERSC resources. You may include publications that are accepted and are in press, or published in journals but not publications in preparation. Do Not include publications that were entered here last year. Please indicate if your article was highlighted on a journal cover.
Enter in the order: authors, title, journal, DOI. The DOI is the single most important item because we can look up the publication information from the DOI.
Please do not dump information from latex into this area! Ideally you will enter all information as plain text.
Non-refereed Publications
Here you may include publications that have been submitted but not yet published, as well as non refereed publications.
Resources Tab
You should only enter integers in the fields for the various resources requested. Characters will be removed, and decimals will be rounded up to the next whole integer. For storage resources such as Archival (HPSS) and CFS space, we are standardizing on units of TB.

If you enter text, e.g., "2 million," all non-numeric characters will be stripped, and any numerals (2, in this case) will be saved. Also, any number that is entered as a decimal will be rounded to a whole integer. So please carefully check the values after you save the draft.

Computational Resources
There are two separate compute allocation pools: one for all CPU-only nodes (Perlmutter CPU-only nodes) and another for the Perlmutter GPU-accelerated nodes. Allocations, charging, and usage tracking will be in units of Node Hours. The basis for one CPU node hour is time spent running on one Perlmutter CPU-only node for one hour. Similarly, one GPU Node Hour is charged for running on a single Perlmutter GPU-accelerated node for one hour. When requesting GPU Node hours, you will need to include a statement of your code's readiness to run on GPUs.
We're asking you to assess the GPU readiness of the codes you plan to use on the Perlmutter GPU nodes. There is a wide range of discussions that are possible to describe GPU readiness for our codes and user base. So, please provide the relevant information about your current GPU status, plans, goals, and/or limitations to help us understand the current state of your codes and what will best serve your success in the future. Additional information about preparing to run on GPUs can be found on the Perlmutter readiness page on NERSC's technical documentation website.

Archival Storage
All NERSC projects have accounts on the archival, mass storage system, HPSS. See HPSS Charging for details. Please enter how much HPSS Archival storage space you anticipate you will need. Include enough storage space in your request to cover your currently stored files and your anticipated additional storage for the new year. Please enter the number in whole Terabytes. This will be your new total quota for the year.
Shared Project Storage in the NERSC Community File System
Each project receives storage space in the NERSC Community File System (CFS). These are sometimes called "project directories." Project directories are renewed by entering the CFS Storage Requested amount in TBs. Each project receives a default of 20 TBs. Please enter how much CFS storage space you anticipate you will need. Include enough storage space in your request to cover your currently stored files and your anticipated additional storage for the new year. Please enter the number in whole Terabytes. This will be your new total quota for the year. Requests for a higher quota will be reviewed by DOE program managers.
Brief Justification for Requested Resources
Tell us how you determined/estimated the number of compute hours and data storage space you requested above as a justification for the Reviewers to determine the appropriateness of your request. Please include justification for large increases in storage space requests.
Events or Deadlines
Please describe any anticipated periods of unusually high or low utilization throughout the year. If your forecasted computer usage will be uneven throughout the year, please provide a percentage breakdown by quarter so we can consider this in our allocation management planning.
Real-Time Computing Needs
Does your project require real-time computing resources? For example, does your project require immediate access to computing resources because it is connected to a live experiment? Please select either "Yes" or "No". If you answer "Yes." you will be presented with a text box to explain your answer.
Experimental or Observational project?
Will the primary role of this project be to support the operation of and/or data analysis from an experimental or observational facility or mission?
Check the box if this applies to your project.
Special Requirements
If this project has multi-year needs in support of a mission or DOE project or has other special needs (e.g., libraries or software, data pipeline requirements, etc.), please describe those here.
Codes Tab
The code descriptions you provide are used by DOE and NERSC to evaluate the type and extent of machine resources that users require.
A code description should be provided for each of your project's five most frequently used or important codes and applications.
If renewing, please check:
If you still intend to use all of the codes listed (delete those you no longer use).
Add new codes as needed.
Check that the information provided for each code is still accurate.
The following information is requested for each code:
Code Name: This is the name by which your code is known, e.g. NIMROD, AMBER.
URL: Pointing to the Code Description.
Code Description: Provide a brief description of the code. What does the code do? What are the science questions it addresses?
Code is GPU Enabled?: Check this box if your code has been certified to run on GPU systems.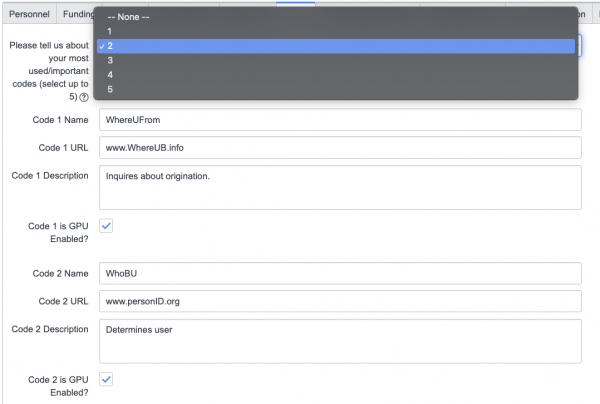 Supporting Information Tab
Other HPC Support
List any additional HPC resources that may be awarded or otherwise committed to this project (from outside NERSC). This includes beyond what is available locally, e.g., a DOE INCITE award, an XSEDE award, etc.
Additional Information
If your project has special requirements that you would like NERSC to consider, describe them here. Enter any additional information you would like the review committees to consider in support of this request.
Feedback
Use this space to provide feedback on ERCAP, the NERSC application/allocation process.
Usage Agreement Tab
If this project is given a NERSC award, I agree to monitor the usage associated with it to ensure that, to the best of my ability, usage is for the project described here. Furthermore, if this is a continuing project, I confirm that I have audited the usage associated with this project, to the best of my ability, to determine all usage was for the project specified.

Enter your initials in the designated box as an "electronic" signature that you agree to these terms. You must enter your agreement, or you will not be able to submit your ERCAP request.
Submitting your request
When you have completed answering to your satisfaction all the questions on the request form, click the "Submit for Review" button. You will be asked to confirm that you are ready to submit your request. Clicking on the "OK" button will submit your request and send it to the appropriate DOE program manager for evaluation.

Printing and Saving to Disk
You should find a "Create PDF" button in the top right corner of the request.
When you click this button, the ERCAP system will generate a PDF and attach it to your request. You should see the file name below the gray bar where the "Create PDF" button is located.
You can then download the PDF, save it to your local computer, and print it.

Advice for Answering Long Text Questions
It is not recommended that you directly type in long answers. Rather, compose your answers elsewhere, and paste them into the ERCAP text boxes.
Note for Microsoft Internet Explorer (IE) users: some IE browsers interpret a carriage return (the Enter or Return key) in the short text boxes (the text boxes without a scroll bar) as a Save. If you enter a carriage control in a short text box, it is as though you have clicked the Save button. Also, note that you can use the Tab key to jump to the next text box.
Most of the text boxes are limited to a maximum of 4,000 characters. Many of these large text fields are also attached to what is called an overflow table. This effectively allows for an 8,000-character entry. We used to have a character counter that would display the number of characters you had entered, but if you went over the 4,000 character limit of the initial field, it would display a negative number for the count of the characters going into the overflow field. These negative numbers were causing a lot of confusion, so we disabled the counter. Please review a PDF of your request before you submit it to ensure that the full text of your response was saved. For longer, more detailed answers, you can always attach additional documents to the ERCAP request.
ERCAP error messages
Most of the fields have self-checking actions associated with them, and you will be notified immediately if you have entered something incorrectly.
Before you can submit your request, you must answer all mandatory questions. These are indicated with a red asterisk next to the question label. Also, any tab that has an unanswered mandatory question in it will have a small asterisk next to the tab label. If you have any unanswered mandatory questions when you try to submit your request, you will get an error message at the top of the form telling you which question(s) need to be answered.
Deleting a request
If you need to delete a request, email the allocations support team.