Melissa Romanus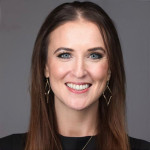 Melissa Romanus is a Data Management Engineer for the National Energy Research Scientific Computing Center (NERSC) at Lawrence Berkeley National Laboratory. She is a member of the Operations Technology Group, where her research focuses on the ingestion, collection, analysis, and visualization of real-time streaming operational and systems data in data centers that support high-performance computing systems. She earned her Bachelor of Science in Electrical & Computer Engineering (ECE) from Tufts University in 2010 and her Master's in ECE from Rutgers in 2014.
Melissa's current research interests are in operational data analytics in high-performance computing (HPC) data centers and system architecture of large-scale data warehouses. She is also particularly interested in the automation of scientific workloads and data-driven science on HPC systems.
Melissa is a passionate advocate for mental health, increased neurodiversity in the workplace, and disability awareness. She currently serves as NERSC's Inclusion, Diversity, Equity, and Accountability (IDEA) council chair for the labwide community, as well as in the CS Area. She is also the co-chair of the All-Access Employee Resource Group Mental Health Initiative. In addition, Melissa is the first-year delegate elect representing Berkeley Lab on the Council of UC Staff Assemblies (CUCSA), where she looks forward to serving the Lab community through staff engagement and making efforts to ensure all voices are heard and represented.
Journal Articles
Conference Papers
Book Chapters
Tong Jin, Qian Sun, Melissa Romanus, Manish Parashar,

"Adaptive Data Placement in Multi-Tiered Data Staging Runtime",

New Frontiers in High Performance Computing and Big Data,

(

1969

)

Pages: 175--196
Elizabeth Bautista, Nitin Sukhija, Melissa Romanus, Thomas Davis, Cary Whitney,

"OMNI at the Edge",

Cybersecurity and High-Performance Computing Environments,

(

1969

)

Pages: 63--84