Debbie Bard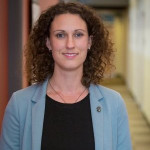 Group Lead
Data Science Engagement
1 Cyclotron Road
Mailstop: 59R4010A
Berkeley
,
CA
94720
us
Biographical Sketch
Debbie Bard is acting group lead for the Data Science Engagement Group at the National Energy Research Scientific Computing Center (NERSC) at Berkeley National Lab. A native of the UK, her career spans research in particle physics, cosmology and computing on both sides of the Atlantic. She obtained her Ph.D. at Edinburgh University, and worked at Imperial College London and SLAC National Accelerator Laboratory before joining the Data and Analytics group at NERSC, where she focuses on data-intensive computing and research. 
Conference Papers
Presentation/Talks
The long-awaited Burst Buffer technology is now being deployed on major supercomputing systems, including new machines at NERSC, LANL, ANL, and KAUST. In this BOF, we discuss early experience with Burst Buffers from both a systems and a user's perspective, including challenges faced and perspectives for future development. Short presentations from early adopters will be followed by general discussion with the audience. We hope that this BOF will attract interest and participation from end-users and software/hardware developers. 
See www.burstbuffer.org for presentations. 
Container technology is being used to answer some of the biggest questions in science today - what is the Universe made of? How has it evolved over time? Scientists use vast quantities of data to study these questions, and analyzing this data requires Big Data solutions on high performance computing resources. In this talk we discuss why containers are being deployed on the Cori supercomputer at NERSC (the National Energy Research Scientific Computing center) to answer fundamental scientific questions. We will give examples of the use of Docker in simulating complex physical processes and analyzing experimental data in fields as diverse as particle physics, cosmology, astronomy, genomics and material science. We will demonstrate how container technology is being used to facilitate access to scientific computing resources by scientists from around the globe. Finally, we will discuss how container technology has the potential to revolutionize scientific publishing, and could solve the problem of scientific reproducibility.
Tina Declerck, Katie Antypas, Deborah Bard, Wahid Bhimji, Shane Canon, Shreyas Cholia, Helen (Yun) He, Douglas Jacobsen, Prabhat, Nicholas J. Wright,
Cori - A System to Support Data-Intensive Computing,
Cray User Group Meeting 2016, London, England,
May 12, 2016,
NVRAM-based Burst Buffers are an important part of the emerging HPC storage landscape. The National Energy Research Scientific Computing Center (NERSC) at Lawrence Berkeley National Laboratory recently installed one of the first Burst Buffer systems as part of its new Cori supercomputer, collaborating with Cray on the development of the DataWarp software. NERSC has a diverse user base comprised of over 6500 users in 750 different projects spanning a wide variety of scientific applications, including climate modeling, combustion, fusion, astrophysics, computational biology, and many more. The potential applications of the Burst Buffer at NERSC are therefore also considerable and diverse.
I will discuss the Burst Buffer Early User Program at NERSC, which selected a number of research projects to gain early access to the Burst Buffer and exercise its different capabilities to enable new scientific advancements. I will present details of the program, in-depth performance results and lessons-learnt from highlighted projects.
Reports
Gerber, Richard; Hack, James; Riley, Katherine; Antypas, Katie; Coffey, Richard; Dart, Eli; Straatsma, Tjerk; Wells, Jack; Bard, Deborah; Dosanjh, Sudip, et al.,
"Crosscut report: Exascale Requirements Reviews",
January 22, 2018,
Posters
Debbie Bard, Wahid Bhimji, David Paul, Glenn K. Lockwood, Nicholas J Wright, Katie Antypas, Prabhat, Steve Farrell, Andrey Ovsyannikov, Melissa Romanus, Brian Van Straalen, David Trebotich, Guenter Weber,
"Experiences with the Burst Buffer at NERSC",
Supercomputing Conference,
November 16, 2016,
Annette Greiner, Evan Racah, Shane Canon, Jialin Liu, Yunjie Liu, Debbie Bard, Lisa Gerhardt, Rollin Thomas, Shreyas Cholia, Jeff Porter, Wahid Bhimji, Quincey Koziol, Prabhat,
"Data-Intensive Supercomputing for Science",
Berkeley Institute for Data Science (BIDS) Data Science Faire,
May 3, 2016,
Review of current DAS activities for a non-NERSC audience.