Dianna LaFerry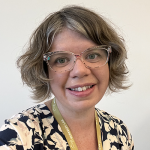 Web Content Administrator, Computing Sciences
Dianna LaFerry is a web content administrator in the Computing Sciences Area (CS Area) at Berkeley Lab. She contributes to front-end management and maintenance of the CS Area websites. She also provides web support and education to CS Area employees, assists in producing the InTheLoop e-newsletter, and is working to increase accessibility across all CS digital media. She joined the CS Area communications team in 2021.
Growing up alongside the Internet, LaFerry was an early adopter of online technologies. Originally a classically trained painter, she holds a Bachelor of Fine Arts from The University of Oklahoma and has been a practicing graphic designer and web administrator since 1993. She is an art history enthusiast and an enrolled tribal citizen of the Cherokee Nation of Oklahoma.
When not behind the keyboard of the CS Area websites, LaFerry is an active knitter, seamstress, painter, baker, and mom.