Margie Wylie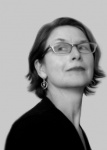 Biographical Sketch
Margie Wylie became NERSC's web lead in June 2023. Prior to that, she was the web coordinator for the Computing Sciences Area at the Lab.
She was previously a journalist, most recently for the Newhouse News Service, where she served as a national correspondent for science and technology. She has also been an assistant business editor for technology at the San Jose Mercury News, op-ed editor at CNET's News.com, and managing editor for Digital Media: A Seybold Report. Between her journalism career and the Lab, Wylie spent a few years at a San Francisco marketing agency, working primarily with high-tech clients.
Wylie's work has appeared in the Wall Street Journal, San Jose Mercury News, San Francisco Chronicle, Chicago Tribune, and many other magazines, newspapers, and online outlets. She has also contributed commentary to broadcast news programs and produced video shorts.
A reckless wielder of vintage film cameras, her favorites include a Nikon FM2n and Soviet-era Lubitel Lomo TLR.