Benchmarking Team from LBNL/NERSC Makes News in Japan
June 1, 2004
Late last year, four researchers from the NERSC Center and Lawrence Berkeley National Laboratory's Computational Research Division spent nearly one week at the Earth Simulator Center in Japan. Their objective was to run a series of scientific applications on the Japanese supercomputer, in part to assess the viability of the Earth Simulator's vector architecture for codes important to the DOE Office of Science mission.
The visit merited an article and photo in the Japanese-language "ES News" newsletter. Here is a translation of the article, courtesy of NERSC's Jonathan Carter, one of the participants.
Spearheading International Collaborative Research
"In the way that University of Tennessee Professor Dongarra commented 'The best researchers from all over the world will come to use the Earth Simulator– from Japan's point of view it is a wonderful chance', collaborative research with the Earth Simulator Center and well-known international research establishments is continuing.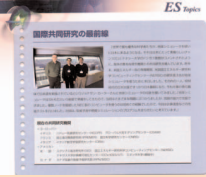 "At the end of last year, three researchers from the U.S. Department of Energy's National Energy Research Computer Center (NERSC) came to Japan to use the Earth Simulator. We asked one of the three, Jonathan Carter, who had become well acquainted with Japan during business trips while working at IBM and continues to study Japanese as a hobby, his impression of the Earth Simulator. He told us that 'We prepared for this visit expecting that the Earth Simulator was a lot like an NEC SX-6, so at first we encountered various problems, but through collaboration with everyone here, we were able to overcome them. This is our first experience with a multi-node NEC computer, so on this visit we conducted various benchmark tests to gauge the ability of the system. On our next visit we are considering running some climate and combustion simulations.'"
---
About NERSC and Berkeley Lab
The National Energy Research Scientific Computing Center (NERSC) is a U.S. Department of Energy Office of Science User Facility that serves as the primary high-performance computing center for scientific research sponsored by the Office of Science. Located at Lawrence Berkeley National Laboratory, the NERSC Center serves more than 7,000 scientists at national laboratories and universities researching a wide range of problems in combustion, climate modeling, fusion energy, materials science, physics, chemistry, computational biology, and other disciplines. Berkeley Lab is a DOE national laboratory located in Berkeley, California. It conducts unclassified scientific research and is managed by the University of California for the U.S. Department of Energy. »Learn more about computing sciences at Berkeley Lab.