Brian Friesen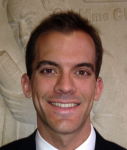 Application Performance Specialist
1 Cyclotron Road
Mail Stop 59R4010A
Berkeley
,
CA
94720
Journal Articles
Conference Papers
C. Yang, B. Friesen, T. Kurth, B. Cook, and S. Williams,
"Toward Automated Application Profiling on Cray Systems",
Cray User Group (CUG) 2018,
May 24, 2018,
Wahid Bhimji, Debbie Bard, Kaylan Burleigh, Chris Daley, Steve Farrell, Markus Fasel, Brian Friesen, Lisa Gerhardt, Jialin Liu, Peter Nugent, Dave Paul, Jeff Porter, Vakho Tsulaia,

"Extreme I/O on HPC for HEP using the Burst Buffer at NERSC",

Journal of Physics: Conference Series,

December 1, 2017,

898

:

082015,
Thorsten Kurth, William Arndt, Taylor Barnes, Brandon Cook, Jack Deslippe, Doug Doerfler, Brian Friesen, Yun (Helen) He, Tuomas Koskela, Mathieu Lobet, Tareq Malas, Leonid Oliker, Andrey Ovsyannikov, Samual Williams, Woo-Sun Yang, Zhengji Zhao,
"Analyzing Performance of Selected NESAP Applications on the Cori HPC System",
International Conference on High Performance Computing,
June 22, 2017,
Yun (Helen) He, Brandon Cook, Jack Deslippe, Brian Friesen, Richard Gerber, Rebecca Hartman­-Baker, Alice Koniges, Thorsten Kurth, Stephen Leak, Woo­Sun Yang, Zhengji Zhao, Eddie Baron, Peter Hauschildt,
"Preparing NERSC users for Cori, a Cray XC40 system with Intel Many Integrated Cores",
Cray User Group 2017, Redmond, WA. Best Paper First Runner-Up.,
May 12, 2017,
T. Barnes, B. Cook, J. Deslippe, D. Doerfler, B. Friesen, Y.H. He, T. Kurth, T. Koskela, M. Lobet, T. Malas, L. Oliker, A. Ovsyannikov, A. Sarje, J.-L. Vay, H. Vincenti, S. Williams, P. Carrier, N. Wichmann, M. Wagner, P. Kent, C. Kerr, J. Dennis,
"Evaluating and Optimizing the NERSC Workload on Knights Landing",
PMBS 2016: 7th International Workshop on Performance Modeling, Benchmarking and Simulation of High Performance Computer Systems. Supercomputing Conference,
Salt Lake City, UT, USA,
IEEE,
November 13, 2016,
LBNL LBNL-1006681,
doi: 10.1109/PMBS.2016.010
W. Bhimji, D. Bard, M. Romanus, D. Paul, A. Ovsyannikov, B. Friesen, M. Bryson, J. Correa, G. K. Lockwood, V. Tsulaia, S. Byna, S. Farrell, D. Gursoy, C. Daley, V. Beckner, B. Van Straalen, D. Trebotich, C. Tull, G. Weber, N. J. Wright, K. Antypas, Prabhat,
"Accelerating Science with the NERSC Burst Buffer Early User Program",
Cray User Group,
May 11, 2016,
LBNL LBNL-1005736,
NVRAM-based Burst Buffers are an important part of the emerging HPC storage landscape. The National Energy Research Scientific Computing Center (NERSC) at Lawrence Berkeley National Laboratory recently installed one of the first Burst Buffer systems as part of its new Cori supercomputer, collaborating with Cray on the development of the DataWarp software. NERSC has a diverse user base comprised of over 6500 users in 700 different projects spanning a wide variety of scientific computing applications. The use-cases of the Burst Buffer at NERSC are therefore also considerable and diverse. We describe here performance measurements and lessons learned from the Burst Buffer Early User Program at NERSC, which selected a number of research projects to gain early access to the Burst Buffer and exercise its capability to enable new scientific advancements. To the best of our knowledge this is the first time a Burst Buffer has been stressed at scale by diverse, real user workloads and therefore these lessons will be of considerable benefit to shaping the developing use of Burst Buffers at HPC centers.
Presentation/Talks
Yun (Helen) He, Brandon Cook, Jack Deslippe, Brian Friesen, Richard Gerber, Rebecca Hartman-Baker, Alice Koniges, Thorsten Kurth, Stephen Leak, Woo-Sun Yang, Zhengji Zhao, Eddie Baron, Peter Hauschildt,
Preparing NERSC users for Cori, a Cray XC40 system with Intel Many Integrated Cores,
Cray User Group 2017, Redmond, WA,
May 12, 2017,