Patrick Hajek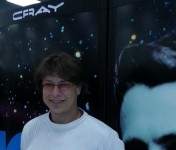 Storage Systems Group
National Energy Research Scientific Computing Center
Lawrence Berkeley National Laboratory
1 Cyclotron Road
Mail Stop 100PGF
Berkeley
,
CA
94720
US
Biographical Sketch
In 1994, Patrick Hajek graduated from the The University of British Columbia with a Bachelor of Applied Science and a minor in Electrical Engineering. After graduating, Patrick travelled across Northern British Columbia and in the Yukon, performing geophysical surveys (utilizing ground penetrating radar and projecting electromagnetic fields into the ground) to discover the prospects of mineralization hidden under the surface.  During this period, Patrick became interested in the processing of large data sets and started to focus on various computational Infrastructure to manage the geophysical data acquired in the field.
In 1999, Patrick worked as a consultant to Ericsson Professional Services.  He was tasked with setting up Sun Microsystem hardware and Oracle 8i databases for the Medical Web Portal, www.medbroadcast.com.  The knowledge gained from this experience lead to his relocation to the Bay Area in Sept 1999, working as a consultant for Sun Professional Services at the Joint Genome Institute (JGI) in Walnut Creek.  He was tasked to manage large Sun shared memory systems, Netapp and Auspex Systems file servers and other datacenter related activities.
In 2002, Patrick was employed with Lawrence Berkeley National Laboratory (Berkeley Lab) as a Unix System Administrator and Database Administrator where he continues to service the various groups at the JGI.  His time is either spent in Oakland at the Datacenter facility, in Walnut Creek with the scientists or jumping off various mountain peaks in North America (the sport known as Paragliding) during his off-time.