Melinda Jacobsen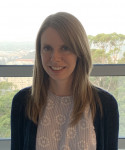 HPC Storage Systems Developer
Storage Systems Group
1 Cyclotron Rd
MS59R4010A
Berkeley
,
CA
94720
US
Biographical Sketch
Melinda Jacobsen joined NERSC as an HPSS software developer in NERSC's Storage and File Systems group in 2019.  She did her undergraduate and graduate work at the University of Michigan, Dearborn, earning a BS and MS in Computer Science.  She has 20 years experience as a software engineer in the defense industry supporting synthetic aperture radar and telecommunications technologies.
Presentation/Talks
Nicholas Balthaser, Wayne Hurlbert, Melinda Jacobsen, Owen James, Kristy Kallback-Rose, Kirill Lozinskiy,
NERSC HPSS Site Update,
2020 HPSS User Forum,
October 9, 2020,
Report on recent projects and challenges running HPSS at NERSC, including recent AQI issues and upcoming HPSS upgrade.
NERSC updates on Storage 2020 Strategy & Progress, GHI Testing, Tape Library Update, Futures