Venkitesh Ayyar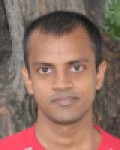 Postdoctoral Scholar
NERSC
Lawrence Berkeley National Lab
NERSC
1 Cyclotron Road
Berkeley
,
CA
94720
US
I joined the DAS group (Data & Analytics Services) at NERSC as a Postdoctoral Scholar in April 2018.
My responsibilities include:
Assisting High Energy Physics groups LZ and ATLAS in running their computation on NERSC machines.

Developing computational workflows for High Energy Physics computations.

Using Machine Learning to solve problems in High Energy Physics.
Background:
My research background is in Theoretical and Computational Particle Physics. I got my PhD in Theoretical Physics from Duke University in September 2016, specializing in Lattice Field theory. As a postdoc at the University of Colorado at Boulder, I worked on the study of lattice gauge theories of interest in Beyond Standard Model Physics. During this time, I also worked on developing Databases and computational workflows for lattice gauge theory calculations.
Research Interests:
Machine Learning, Scientific workflows, Databases, Lattice gauge theories.
Details about my research publications can be found at: http://inspirehep.net/author/profile/V.Ayyar.1
---
Selected Journal publications:
---
Invited Talks:
Study of SU(4) Composite Higgs Model with fermions in multiple representations,
Seminar, Tata Institute of Fundamental Research, Mumbai, India. March 15, 2018.Seminar, Indian Institute of Technology, Mumbai, India,  March 12, 2018.
Fermion mass generation without Spontaneous Symmetry Breaking,
HEP Seminar, University of Colorado, Boulder,  Sept 26, 2016.Seminar, Indian Institute of Technology, Mumbai, India,  March 8, 2016.