Tonglin Li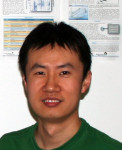 Computer system engineer
Data and Analytics Services
NERSC
1 Cyclotorn Road
Berkeley
,
CA
94720
US
Biographical Sketch
Tonglin Li is a computer system engineer at NERSC. Before joining NERSC, he was a postdoctoral researcher at Oak Ridge National Laboratory. He received his Ph.D. degree in Computer Science from Illinois Institute of Technology in 2015. His research interests include distributed systems, large-scale storage systems, cloud computing, high-performance computing, and big data systems. 
Projects
ECP ExaHDF5: Independent HDF5 metadata update
In this ECP project, I'm working on building a serverless mechanism to maintain a consistent HDF5 namespace across participant processes. This will remove the limitation that applications must use collective operations to modify the namespace within an HDF5 file. 
EOD-HDF5: Advanced metadata and provenance management
I work on exploring strategies for capturing application metadata automatically when data is written to containers and for aggregating that metadata for collections of containers. I also conduct research on expanding the HDF5 interface to provide users with simpler ways to enter extensive metadata and provenance information through multi-attribute interfaces and configuration files.
Software release (approved by LBL Intellectual Property Office)
Independent Metadata Update VOL Connector for HDF5 (IMM VOL).  

Provenance VOL Connector for HDF5 (H5Prov) 

Rootless Operations for MPI (RLO) 
Publications and Presentations
Independent metadata updating for large scale parallel I/O systems, 

Tonglin Li, Quincey Koziol, Houjun Tang, Jialin Liu, Suren Byna. Presented at NERSC Data Seminar. 

H5Prov: I/O Performance Analysis of Science Applications Using HDF5 File-level Provenance, 

Tonglin Li, Quincey Koziol, Houjun Tang, Jialin Liu, Suren Byna, Cray User Group Conference (CUG), 2019

Anycast: Rootless Broadcasting with MPI, 

Tonglin Li, Quincey Koziol, Houjun Tang, Suren Byna, Workshop on Exascale MPI (ExaMPI), 2018