Quincey Koziol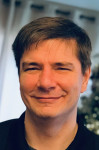 Principal Data Architect
1 Cyclotron Road
M/S 59R4010A
Berkeley
,
CA
94720
US
Conference Papers
Jialin Liu, Quincey Koziol, Houjun Tang, François Tessier, Wahid Bhimji, Brandon Cook, Brian Austin, Suren Byna, Bhupender Thakur, Glenn K. Lockwood, Jack Deslippe, Prabhat,
"Understanding the IO Performance Gap Between Cori KNL and Haswell",
Proceedings of the 2017 Cray User Group,
Redmond, WA,
May 10, 2017,
The Cori system at NERSC has two compute partitions with different CPU architectures: a 2,004 node Haswell partition and a 9,688 node KNL partition, which ranked as the 5th most powerful and fastest supercomputer on the November 2016 Top 500 list. The compute partitions share a common storage configuration, and understanding the IO performance gap between them is important, impacting not only to NERSC/LBNL users and other national labs, but also to the relevant hardware vendors and software developers. In this paper, we have analyzed performance of single core and single node IO comprehensively on the Haswell and KNL partitions, and have discovered the major bottlenecks, which include CPU frequencies and memory copy performance. We have also extended our performance tests to multi-node IO and revealed the IO cost difference caused by network latency, buffer size, and communication cost. Overall, we have developed a strong understanding of the IO gap between Haswell and KNL nodes and the lessons learned from this exploration will guide us in designing optimal IO solutions in many-core era.
M. Scot Breitenfeld, Kalyana Chadalavada, Robert Sisneros, Suren Byna, Quincey Koziol, Neil Fortner, Prabhat, Venkat Vishwanath,
"Tuning Performance of Large scale I/O with Parallel HDF5",
SC'14 PDSW Workshop,
October 15, 2014,
Babak Behzad, Huong Luu, Joey Huchette, Suren Byna, Prabhat, Ruth Aydt, Quincey Koziol, Marc Snir,
"Taming Parallel I/O Complexity with Auto-Tuning",
SuperComputing 2013,
October 9, 2013,
Book Chapters
Quincey Koziol, Ruth Aydt, Russ Rew, Mark Howison, Mark Miller, Prabhat,

"HDF5",

Book Chapter in High Performance Parallel I/O, Prabhat, Quincey editors, CRC Press.,

(

October 23, 2014

)
Reports
Glenn K. Lockwood, Damian Hazen, Quincey Koziol, Shane Canon, Katie Antypas, Jan Balewski, Nicholas Balthaser, Wahid Bhimji, James Botts, Jeff Broughton, Tina L. Butler, Gregory F. Butler, Ravi Cheema, Christopher Daley, Tina Declerck, Lisa Gerhardt, Wayne E. Hurlbert, Kristy A. Kallback-
Rose, Stephen Leak, Jason Lee, Rei Lee, Jialin Liu, Kirill Lozinskiy, David Paul, Prabhat, Cory Snavely, Jay Srinivasan, Tavia Stone Gibbins, Nicholas J. Wright, "Storage 2020: A Vision for the Future of HPC Storage",
October 20, 2017,
LBNL LBNL-2001072,
As the DOE Office of Science's mission computing facility, NERSC will follow this roadmap and deploy these new storage technologies to continue delivering storage resources that meet the needs of its broad user community. NERSC's diversity of workflows encompass significant portions of open science workloads as well, and the findings presented in this report are also intended to be a blueprint for how the evolving storage landscape can be best utilized by the greater HPC community. Executing the strategy presented here will ensure that emerging I/O technologies will be both applicable to and effective in enabling scientific discovery through extreme-scale simulation and data analysis in the coming decade.
Posters
Annette Greiner, Evan Racah, Shane Canon, Jialin Liu, Yunjie Liu, Debbie Bard, Lisa Gerhardt, Rollin Thomas, Shreyas Cholia, Jeff Porter, Wahid Bhimji, Quincey Koziol, Prabhat,
"Data-Intensive Supercomputing for Science",
Berkeley Institute for Data Science (BIDS) Data Science Faire,
May 3, 2016,
Review of current DAS activities for a non-NERSC audience.
Prabhat, Suren Byna, Kesheng Wu, Jerry Chou, Mark Howison, Joey Huchette, Wes Bethel, Quincey Koziol, Mohammad Chaarawi, Ruth Aydt, Babak Behzad, Huong Luu, Karen Schuchardt, Bruce Palmer,
"Updates from the ExaHDF5 project: Trillion particle run, Auto-Tuning and the Virtual Object Layer",
DOE Exascale Research Conference,
2012,