Jessica Nettelblad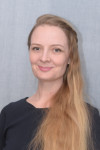 HPC Systems Engineer
Computational Systems Group
NERSC
1 Cyclotron Rd
Mailstop: 59R4010A
Berkeley
,
CA
94720
US
Jessica received a M.Sc. from Uppsala University in Sweden in 2016. Her main projects focused on method development for free-electron laser imaging at LCLS and haploid selection at SciLifeLab. 

She worked for three years as a sysadmin at UPPMAX, a national HPC center in Sweden, before joining NERSC in 2019.

Among jobs prior to her degree, she worked as a technical writer and parachute technician for the Swedish Armed Forces.