David Paul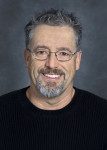 HPC Systems Engineer
Computational Systems Group - Datawarp "Wrangler"
Phone
:
(510) 495-2883 (voice mail only)
1 Cyclotron Road
Mailstop: 59R4010A
Berkeley
,
CA
94720-8043
US
Biographical Sketch
David is the primary point of contact for the Datawarp BurstBuffer implementation on the NERSC-8 system (Cori - Cray XC40).
Conference Papers
Yuping Fan, Zhiling Lan, Paul Rich, William E Allcock, Michael E Papka, Brian Austin, David Paul,
"Scheduling Beyond CPUs for HPC",
Proceedings of the 28th International Symposium on High-Performance Parallel and Distributed Computing,
Pheonix, AZ,
ACM,
June 19, 2019,
97-108,
doi: 10.1145/3307681.3325401
High performance computing (HPC) is undergoing significant changes. The emerging HPC applications comprise both compute- and data-intensive applications. To meet the intense I/O demand from emerging data-intensive applications, burst buffers are deployed in production systems. Existing HPC schedulers are mainly CPU-centric. The extreme heterogeneity of hardware devices, combined with workload changes, forces the schedulers to consider multiple resources (e.g., burst buffers) beyond CPUs, in decision making. In this study, we present a multi-resource scheduling scheme named BBSched that schedules user jobs based on not only their CPU requirements, but also other schedulable resources such as burst buffer. BBSched formulates the scheduling problem into a multi-objective optimization (MOO) problem and rapidly solves the problem using a multi-objective genetic algorithm. The multiple solutions generated by BBSched enables system managers to explore potential tradeoffs among various resources, and therefore obtains better utilization of all the resources. The trace-driven simulations with real system workloads demonstrate that BBSched improves scheduling performance by up to 41% compared to existing methods, indicating that explicitly optimizing multiple resources beyond CPUs is essential for HPC scheduling.
W. Bhimji, D. Bard, M. Romanus, D. Paul, A. Ovsyannikov, B. Friesen, M. Bryson, J. Correa, G. K. Lockwood, V. Tsulaia, S. Byna, S. Farrell, D. Gursoy, C. Daley, V. Beckner, B. Van Straalen, D. Trebotich, C. Tull, G. Weber, N. J. Wright, K. Antypas, Prabhat,
"Accelerating Science with the NERSC Burst Buffer Early User Program",
Cray User Group,
May 11, 2016,
LBNL LBNL-1005736,
NVRAM-based Burst Buffers are an important part of the emerging HPC storage landscape. The National Energy Research Scientific Computing Center (NERSC) at Lawrence Berkeley National Laboratory recently installed one of the first Burst Buffer systems as part of its new Cori supercomputer, collaborating with Cray on the development of the DataWarp software. NERSC has a diverse user base comprised of over 6500 users in 700 different projects spanning a wide variety of scientific computing applications. The use-cases of the Burst Buffer at NERSC are therefore also considerable and diverse. We describe here performance measurements and lessons learned from the Burst Buffer Early User Program at NERSC, which selected a number of research projects to gain early access to the Burst Buffer and exercise its capability to enable new scientific advancements. To the best of our knowledge this is the first time a Burst Buffer has been stressed at scale by diverse, real user workloads and therefore these lessons will be of considerable benefit to shaping the developing use of Burst Buffers at HPC centers.
Reports
Glenn K. Lockwood, Damian Hazen, Quincey Koziol, Shane Canon, Katie Antypas, Jan Balewski, Nicholas Balthaser, Wahid Bhimji, James Botts, Jeff Broughton, Tina L. Butler, Gregory F. Butler, Ravi Cheema, Christopher Daley, Tina Declerck, Lisa Gerhardt, Wayne E. Hurlbert, Kristy A. Kallback-
Rose, Stephen Leak, Jason Lee, Rei Lee, Jialin Liu, Kirill Lozinskiy, David Paul, Prabhat, Cory Snavely, Jay Srinivasan, Tavia Stone Gibbins, Nicholas J. Wright, "Storage 2020: A Vision for the Future of HPC Storage",
October 20, 2017,
LBNL LBNL-2001072,
As the DOE Office of Science's mission computing facility, NERSC will follow this roadmap and deploy these new storage technologies to continue delivering storage resources that meet the needs of its broad user community. NERSC's diversity of workflows encompass significant portions of open science workloads as well, and the findings presented in this report are also intended to be a blueprint for how the evolving storage landscape can be best utilized by the greater HPC community. Executing the strategy presented here will ensure that emerging I/O technologies will be both applicable to and effective in enabling scientific discovery through extreme-scale simulation and data analysis in the coming decade.