Charlene Yang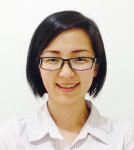 Application Performance Specialist
National Energy Research Scientific Computing Center
Lawrence Berkeley National Laboratory
1 Cyclotron Rd, MS 59R4010A
Berkeley
,
CA
94720
US
Biographical Sketch
Charlene Yang is an Application Performance Specialist in the Application Performance Group at NERSC. Prior to joining NERSC, Charlene worked as a Supercomputing Application Specialist at the Pawsey Supercomputing Centre in Perth, Australia. Her work was focused on assisting Bioinformatics and Astrophysics researchers in their use of supercomputers to accelerate large-scale scientific simulation, modeling and data analysis workflows. 
Charlene holds a Ph.D. in Electrical, Electronic and Computer Engineering from the University of Western Australia. 
Charlene's current research is focused on performance analysis, performance characterization, and performance optimization for large-scale high-performance computing (HPC) applications. She is the primary liaison of two projects, BerkeleyGW and WDMApp, in the NERSC Exascale Science Applications Program (NESAP). Charlene collaborates with domain scientists from Material Science (BerkeleyGW) and High-Energy Physics (WDMApp) and provides guidance and support on their GPU programming, code development and optimization, to help ensure these projects can smoothly transition to and efficiently utilize the cutting-edge supercomputing resources on Perlmutter. 
Charlene is also the lead at NERSC on performance tools and performance modeling. She collaborates with vendors such as NVIDIA and Intel, the Computational Research Division (CRD) at LBNL, and the wider HPC community such as researchers in the Department of Energy Exascale Computing Project (ECP), to bring more automated, accurate and efficient performance tools and methodologies to users for their performance analysis and optimization needs. Charlene is an active developer of the Roofline performance model. She has published numerous papers on Roofline-related research, and is the main maintainer of the Empirical Roofline Toolkit (ERT), and the Roofline data collection methodology for NVIDIA GPUs repository. She also hosts the bi-annual Roofline Hackathons, and contributes to/leads the Roofline Performance Tuning tutorials at the annual Supercomputing Conference (SC) and International Supercomputing Conference (ISC).
Journal Articles
L. Xu, C. J. Yang, D. Huang, and A. Cantoni,
"Exploiting Cyclic Prefix for Turbo-OFDM Receiver Design",
IEEE Access, vol. 5, pp. 15762-15775,
June 2017,
C. J. Yang, Q. Guo, D. Huang, and S. Nordholm,
"A Factor Graph Approach to Exploiting Cyclic Prefix for Equalization in OFDM systems",
IEEE Transactions on Communications, vol. 61, no. 12, pp. 4972-4983,
June 2013,
Conference Papers
M. Del Ben, C. Yang, Z. Li, F. H. da Jornada, S. G. Louie, and J. Deslippe,
"Accelerating Large-Scale Excited-State GW Calculations on Leadership HPC Systems",
ACM Gordon Bell Finalist, Supercomputing Conference (SC'20),
November 2020,
J. R. Madsen, M. G. Awan, H. Brunie, J. Deslippe, R. Gayatri, L. Oliker, Y. Wang,
C. Yang, and S. Williams, "Timemory: Modular Performance Analysis for HPC",
International Supercomputing Conference (ISC'20),
June 2020,
C. Yang, R. Gayatri, T. Kurth, P. Basu, Z. Ronaghi, A. Adetokunbo, B. Friesen, B.
Cook, D. Doerfler, L. Oliker, J. Deslippe, and S. Williams, "An Empirical Roofline Methodology for Quantitatively Assessing Performance Portability",
IEEE International Workshop on Performance, Portability and Productivity in HPC (P3HPC'18),
November 2018,
B. Austin, C. Daley, D. Doerfler, J. Deslippe, B. Cook, B. Friesen, T. Kurth, C. Yang,
and N. Wright, "A Metric for Evaluating Supercomputer Performance in the Era of Extreme Heterogeneity",
9th IEEE International Workshop on Performance Modeling, Benchmarking and Simulation of High Performance Computer Systems (PMBS'18),
November 2018,
T. Koskela, Z. Matveev, C. Yang, A. Adetokunbo, R. Belenov, P. Thierry, Z. Zhao,
R. Gayatri, H. Shan, L. Oliker, J. Deslippe, R. Green, and S. Williams, "A Novel Multi-Level Integrated Roofline Model Approach for Performance Characterization",
International Supercomputing Conference (ISC'18),
June 2018,
C. J. Yang, Q. Guo, D. Huang, and S. Nordholm,
"Exploiting Cyclic Prefix for Joint Detection, Decoding and Channel Estimation in OFDM via EM Algorithm and Message Passing",
IEEE International Conference on Communications (ICC'14), pp. 4674-4679,
June 2014,
C. J. Yang, Q. Guo, D. Huang, and S. Nordholm,
"Enhanced Data Detection in OFDM Systems using Factor Graph",
IEEE International Conference on Wireless Communications and Signal Processing (WCSP'13), pp. 1-5,
October 2013,
C. J. Yang, Q. Guo, D. Huang, and S. Nordholm,
"Exploiting Cyclic Prefix in Turbo FDE Systems using Factor Graph",
IEEE Wireless Communications and Networking Conference (WCNC'13), pp. 2536-2541,
April 2013,
Presentation/Talks
Posters
T. Kurth, C. Yang, et al,
"Roofline Performance Analysis of Deep Learning Kernels and Applications",
The Platform for Advanced Scientific Computing Conference (PASC'21) (accepted),
July 2021,