Alice Koniges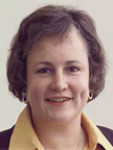 Alice
Evelyn
Koniges
, Ph.D.
Affiliate
National Energy Research Scientific Computing Center
Maui High Performance Computing Center
550 Lipoa Pkwy # 100
Kihei
,
HI
96753
US
Biographical Sketch
Alice Koniges is a NERSC affiliate and alumnus of the Application Performance Group at NERSC/Berkeley Lab and is currently at the University of Hawaii where she works on emerging architectures, programming models and applications.
Soon after she became the first woman ever to earn a PhD in Applied and Computational Mathematics at Princeton University, Alice Koniges joined NERSC in 1984 while it was still at Lawrence Livermore Lab. She achieved the first successful parallel code run on the four-processor Cray-2. She began her career researching parallel computing and plasma physics, focusing on the combination of these two fields. Her expertise in the transition from vector to parallel computing culminated in her textbook
Industrial Strength Parallel Computing,
published by
Morgan Kaufmann Publishers
in January 2000. Alice re-joined NERSC at the Berkeley Lab in 2009.
Alice's research interests include exascale computing challenges, benchmarking and performance optimization of application codes, development of Adaptive Mesh Refinement (AMR) and Arbitrary Lagrangian Eulerian (ALE) algorithms for time-dependent PDE's, and application supercomputing in plasma physics, laser physics, and energy research. She regularly gives tutorials and short courses on programming models. She served as Principal Investigator of the Computational Science and Engineering Petascale Initiative  which brought the first post-doc program to NERSC.
Previous to joining the Berkeley Lab, she held various positions at the Lawrence Livermore National Laboratory, including management of the Lab's institutional computing. She also led the effort to develop a new 3D multiscale multiphysics code (ALE-AMR) that is used to predict the impacts of target shrapnel and debris on the operation of the National Ignition Facility (NIF) the world's most powerful laser, and model Warm Dense Matter (WDM) experiments at the NDCX facility at LBNL. From 1995 to 1997, Alice led the Parallel Applications Technology Program at LLNL. This was the LLNL portion of the largest (12 million) CRADA (Cooperative Research and Development Agreement) ever undertaken by the Department of Energy. She spent 1998 at the Max-Planck Institute in Garching, Germany (Computer Center and Plasma Physics Institute), where she was a consultant to users at the Institute, assisting in the conversion of applications codes for parallel computers. In addition to her PhD she also holds MSE and MA degrees from Princeton, and a BA from the University of California, San Diego and has published more than 100 refereed technical papers. 
Journal Articles
Conference Papers
Books
Timothy G. Mattson, Yun (Helen) He, Alice E. Koniges,

The OpenMP Common Core: Making OpenMP Simple Again,

Book: Scientific and Engineering Computation Series,

edited by William Gropp, Ewing Lusk,

(

The MPI Press:

November 19, 2019

)

Pages: 320 pp
How to become a parallel programmer by learning the twenty-one essential components of OpenMP.
Presentation/Talks
Reports
Posters
A. Koniges, R. Gerber, D. Skinner, Y. Yao, Y. He, D. Grote, J-L Vay, H. Kaiser, and T. Sterling,
"Plasma Physics Simulations on Next Generation Platforms",
55th Annual Meeting of the APS Division of Plasma Physics, Volume 58, Number 16,
November 11, 2013,
The current high-performance computing revolution provides opportunity for major increases in computational power over the next several years, if it can be harnessed. This transition from simply increasing the single-processor and network performance to a different architectural paradigms forces application programmers to rethink the basic models of parallel programming from both the language and problem division standpoints. One of the major computing facilities available to researchers in fusion energy is the National Energy Research Scientific Computing Center. As the mission computing center for DOE, Office of Science, NERSC is tasked with helping users to overcome the challenges of this revolution both through the use of new parallel constructs and languages and also by enabling a broader user community to take advantage of multi-core performance. We discuss the programming model challenges facing researchers in fusion and plasma physics in for a variety of simulations ranging from particle-in-cell to fluid-gyrokinetic and MHD models.
Others
D C Eder, A E Koniges, N D Masters, A C Fisher, R W Anderson, K R Gaunt and D J Benson,
Fragmentation and penetration visualization from the multi-physics ALE-AMR code,
SciDAC 2009 J. Phys.: Conf. Ser. 180 013001,
June 15, 2009,
On Monday, June 15, 2009, the SciDAC 2009 conference sponsored an Electronic Visualization and Poster Night. Scientists involved in DOE Office of Science research, such as SciDAC, INCITE, and core-funded programs, were encouraged to submit an image or animation to be shown at this event. A DVD of those images and animations is attached to the inside back cover of this proceedings book.