Taylor Groves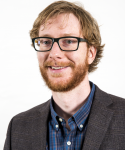 HPC Performance Engineer
Advanced Technology Group
National Energy Research Scientific Computing Center
1 Cyclotron Rd
Mailstop: 59R4010A (office 59-3072B)
Berkeley
,
California
94720
US
Journal Articles
Remote Direct Memory Access (RDMA) is expected to be an integral communication mechanism for future exascale systems enabling asynchronous data transfers, so that applications may fully utilize CPU resources while simultaneously sharing data amongst remote nodes. In this work we examine Network-induced Memory Contention (NiMC) on Infiniband networks. We expose the interactions between RDMA, main-memory and cache, when applications and out-of-band services compete for memory resources. We then explore NiMCs resulting impact on application-level performance. For a range of hardware technologies and HPC workloads, we quantify NiMC and show that NiMCs impact grows with scale resulting in up to 3X performance degradation at scales as small as 8K processes even in applications that previously have been shown to be performance resilient in the presence of noise. Additionally, this work examines the problem of predicting NiMC's impact on applications by leveraging machine learning and easily accessible performance counters. This approach provides additional insights about the root cause of NiMC and facilitates dynamic selection of potential solutions. Lastly, we evaluated three potential techniques to reduce NiMCs impact, namely hardware offloading, core reservation and network throttling.
Conference Papers
Book Chapters
Ryan E. Grant, Taylor Groves, Simon Hammond, K. Scott Hemmert, Michael Levenhagen, Ron Brightwell,

"Handbook of Exascale Computing: Network Communications",

(

ISBN:978-1466569003 Chapman and Hall:

January 1, 2017

)
Presentation/Talks
Taylor Groves,
Networks, Damn Networks and Aries,
NERSC CS/Data Seminar,
October 6, 2017,
Presentation of the performance of the Cori Aries network.   Highlights of monitoring and analysis efforts underway.
Doug Jacobsen, Taylor Groves,
Global Aries Counter Collection and Analysis,
Cray Quarterly Meeting,
July 25, 2017,
Taylor Groves,
Characterizing Power and Performance in HPC Networks,
Future Technologies Group at ORNL,
January 10, 2017,
Taylor Groves,
Characterizing and Improving Power and Performance in HPC Networks,
Advanced Technology Group -- NERSC,
January 8, 2017,
Taylor Groves,
Improving Power and Performance in HPC Networks,
AMD Research - Austin,
June 10, 2016,
Posters
Taylor Groves, Ryan Grant, Dorian Arnold,
"Network-induced Memory Contention.",
Salishan Conference on High Speed Computing, Gleneden Beach, OR,,
April 1, 2016,