Katherine Yelick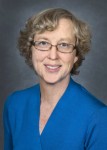 Katherine
A.
Yelick
, Ph.D.
Associate Lab Director for Computing Sciences
Phone
:
(510) 495-2431* [LBNL] | (510) 642-8900* [UCB]
1 Cyclotron Rd.
Mail Stop 50B-4230
Berkeley
,
CA
94720
* Email for appointments: Tara White, Assistant  |  Phone: 510.486.6118  |  Email:  TDWhite@lbl.gov
Biographical Sketch
Kathy Yelick is associate lab director for Computing Sciences at Lawrence Berkeley National Laboratory (Berkeley Lab). The computing sciences area at Berkeley Lab is comprised of the National Energy Research Scientific Computing Division, the Scientific Networking Division and the Computational Research Division. Dr. Yelick has been a professor of computer science at the University of California, Berkeley since 1991 and is an internationally recognized expert in developing methods to advance the use of supercomputers. She earned her Ph.D. in computer science from MIT and has held a joint research appointment at Berkeley Lab since 1996. Her research interests include parallel computing, memory hierarchy optimizations, programming languages, and compilers.
Conference Papers
Zhengji Zhao, Mike Davis, Katie Antypas, Yushu Yao, Rei Lee and Tina Butler,
"Shared Library Performance on Hopper",
A paper presented in the Cray User Group meeting, Apri 29-May-3, 2012, Stuttgart, German.,
May 3, 2012,
Presentation/Talks
Zhengji Zhao, Mike Davis, Katie Antypas, Yushu Yao, Rei Lee and Tina Butler,
Shared Library Performance on Hopper,
A talk in the Cray User Group meeting, Apri 29-May-3, 2012, Stuttgart, German.,
May 3, 2012,
Zhengji Zhao, Mike Davis, Katie Antypas, Rei Lee and Tina Butler,
Shared Library Performance on Hopper,
Oct. 26, 2011, Cray Quarterly Meeting at St Paul, MN,
October 26, 2011,
Reports
K. Antypas, B.A Austin, T.L. Butler, R.A. Gerber, C.L Whitney, N.J. Wright, W. Yang, Z Zhao,
"NERSC Workload Analysis on Hopper",
Report,
October 17, 2014,
LBNL 6804E,