Ravi Cheema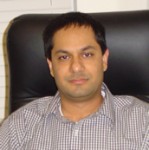 Storage Systems Group
National Energy Research Scientific Computing Center
Lawrence Berkeley National Laboratory
1 Cyclotron Road
Mail Stop 100PGF
Berkeley
,
CA
94720
Biographical Sketch
Ravi currently works in NERSC Storage Group and shares responsibility to support, deploy and develop NERSC Global Filesystems. He is also the primary point of contact for supporting storage for Joint Genome Institute and NERSC Data Transfer nodes.
Presentation/Talks
J. Hick, R. Lee, R. Cheema, K. Fagnan,
GPFS for Life Sciences at NERSC,
GPFS User Group Meeting,
May 20, 2015,
A report showing both high and low-level changes made to our life sciences workloads to support them on GPFS file systems.