Nicholas Balthaser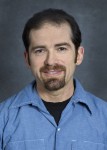 Storage Systems Group
1 Cyclotron Road
Mail Stop 943-256
Berkeley
,
CA
94720
US
Biographical Sketch
Nick is responsible for deployment and administration of servers, storage, and network technologies in support of the NERSC HPSS systems.  Additionally he is responsible for testing and deployment of storage client interfaces such as HSI and HTAR on NERSC compute platforms and transfer nodes.  He does continuing work with members of the DOE Science Grid community and the NERSC Outreach, Software, and Programming group to provide innovative storage interfaces, including connecting the NERSC archive to the web-based Globus data transfer service.  Prior to joining NERSC in 2003 Nick ran weather forecasting systems for several online weather providers and worked as a systems analyst at Wells Fargo Bank.  Before joining the Storage Systems Group Nick managed Linux compute platforms in the Computational Systems Group and administered FreeBSD systems in the NERSC Server Team.  Nick holds a bachelor's degree from San Francisco State University.
Presentation/Talks
Reports
N. Balthaser, D. Hazen,
"HSI Best Practices for NERSC Users",
May 2, 2011,
LBNL 4745E,
In this paper we explain how to obtain and install HSI, create a NERSC authentication token, and transfer data to and from the system. Additionally we describe methods to optimize data transfers and avoid common pitfalls that can degrade data transfers and storage system performance.