Alice Koniges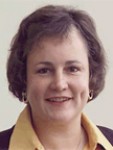 Alice
Evelyn
Koniges
, Ph.D.
Petascale Postdoc Coordinator
,
User Services Group
,
National Energy Research Scientific Computing Center
Phone

:

(510) 486-7481

,
Fax

:

(510) 486-4316
Lawrence Berkeley National Laboratory
1 Cyclotron Road
Mail Stop 943R0256
Berkeley
,
CA
94720
US
Biographical Sketch
Soon after she became the first woman ever to earn a PhD in Applied and Computational Mathematics at Princeton University, Alice Koniges began her career as a member of NERSC's Computational Physics Group in 1984 at LLNL. She achieved the first successful parallel code run on the four-processor Cray-2. She began her career researching parallel computing and plasma physics, focusing on the combination of these two fields. Her expertise in the transition from vector to parallel computing culminated in her textbook Industrial Strength Parallel Computing, published by Morgan Kaufmann Publishers in January 2000. Alice joined the Berkeley Lab in 2009.
Her current research interests include programming models for multicore architectures, benchmarking and performance optimization of application codes, development of Adaptive Mesh Refinement (AMR) and Arbitrary Lagrangian Eulerian (ALE) algorithms for time-dependent PDE's, and application supercomputing in plasma physics, laser physics, and energy research. She regularly gives tutorials and short courses on application supercomputing. She also manages the NERSC Petascale post-doc program as Principal Investigator of the Computational Science and Engineering Petascale Initiative at LBNL.
Previous to joining the Berkeley Lab, she held various positions at the Lawrence Livermore National Laboratory, including management of the Lab's institutional computing. She also led the effort to develop a new 3D multiscale multiphysics code (ALE-AMR) that is used to predict the impacts of target shrapnel and debris on the operation of the National Ignition Facility (NIF) the world's most powerful laser, and model Warm Dense Matter (WDM) experiments at the NDCX facility at LBNL. From 1995 to 1997, Alice led the Parallel Applications Technology Program at LLNL. This was the LLNL portion of the largest (12 million) CRADA (Cooperative Research and Development Agreement) ever undertaken by the Department of Energy. She spent 1998 at the Max-Planck Institute in Garching, Germany (Computer Center and Plasma Physics Institute), where she was a consultant to users at the Institute, assisting in the conversion of applications codes for parallel computers. In addition to her PhD she also holds MSE and MA degrees from Princeton, and a BA from the University of California, San Diego and has published approximately 100 refereed technical papers. See also PersonalPage.
Journal Articles
Alice Koniges, Wangyi Liu, John Barnard, Alex Friedman, Grant Logan, David Eder, Aaron Fisher, Nathan Masters, and Andrea Bertozzi,
"Modeling warm dense matter experiments using the 3D ALE-AMR code and the move toward exascale computing",
J. Physics, Conf. Ser, in press.,
2013,
David E. Keyes, Lois Curfman McInnes, Carol Woodward, William Gropp, Eric Myra, Michael Pernice,
John Bell, Jed Brown, Alain Clo, Jeffrey Connors, Emil Constantinescu, Don Estep, Kate Evans,
Charbel Farhat, Ammar Hakim, Glenn Hammond, Glen Hansen, Judith Hill, Tobin Isaac, Xiaomin Jiao, Kirk Jordan,
Dinesh Kaushik, Efthimios Kaxiras, Alice Koniges, et al.,
"Multiphysics Simulations Challenges and Opportunities",

International Journal of High Performance Computing Applications,

February 2013,

27

:

4--83,
Xuefei Yuan, Xiaoye S Li, Ichitaro Yamazaki, Stephen C Jardin, Alice E Koniges, David E Keyes,

"Application of PDSLin to the magnetic reconnection problem",

Computational Science & Discovery,

2013,

6

:

014002,
D. Eder, D. Bailey, F. Chambers, I. Darnell, P. Di Nicola, S. Dixit, A. Fisher, G.Gururangan, D. Kalantar, A. Koniges, W. Liu, M. Marinak, N. Masters, V. Mlaker, R. Prasad, S. Sepke, P. Whitman,
"Observations and modeling of debris and shrapnel impacts on optics and diagnostics at the National Ignition Facility",
J. Physics, Conf. Ser, in press,
2013,
AE Koniges, ND Masters, AC Fisher, RW Anderson, DC Eder, TB Kaiser, DS Bailey, B Gunney, P Wang, B Brown, K Fisher, F Hansen, BR Maddox, DJ Benson, M Meyers, A Geille,

"ALE-AMR: A new 3D multi-physics code for modeling laser/target effects",

Journal of Physics: Conference Series,

2010,

244

:

032019,
Gabriele Jost, Alice Koniges,

"Special Issue: Exploring languages for expressing medium to massive on-chip parallelism",

Scientific Programming,

2010,

18

:

125--126,
N. Masters, T.B. Kaiser, R.W. Anderson, D.C. Eder, A.C. Fisher, A.E. Koniges,
"Laser Ray Tracing in a Parallel Arbitrary Lagrangian Eulerian Adaptive Mesh Refinement Hydrocode",
J. Physics, Conf. Ser. 244: 032022,
2010,
AC Fisher, DS Bailey, TB Kaiser, BTN Gunney, ND Masters, AE Koniges, DC Eder, RW Anderson,

"Modeling heat conduction and radiation transport with the diffusion equation in NIF ALE-AMR",

Journal of Physics: Conference Series,

2010,

244

:

022075,
Hongzhang Shan, Filip Blagojevic, Seung-Jai Min, Paul Hargrove, Haoqiang Jin, Karl Fuerlinger, Alice Koniges, Nicholas J Wright,

"A programming model performance study using the NAS parallel benchmarks",

Scientific Programming,

2010,

18

:

153--167,
Robert Preissl, Alice Koniges, Stephan Ethier, Weixing Wang, Nathan Wichmann,

"Overlapping communication with computation using OpenMP tasks on the GTS magnetic fusion code",

Scientific Programming,

2010,

18

:

139--151,
D. C. Eder, R. W. Anderson, D. S. Bailey, P. Bell, D. J. Benson, A. L. Bertozzi, W. Bittle, D, Bradley, C. G. Brown, T. J. Clancy, H. Chen, J. M. Chevalier, P. Combis, L. Dauffy, C. S. Debonnel, M. J. Eckart, A. C. Fisher, A. Geille, V. Y. Glebov, J. Holder, J. P. Jadaud, O. Jones, T. B. Kaiser, D. Kalantar, H. Khater, J. Kimbrough, A. E. Koniges, O. L. Landen, B. J. MacGowan, N. D. Masters, A. MacPhee, B. R. Maddox, M. Meyers, S. Osher, R. Prasad, D. Raffestin, J. Raimbourg, V. Rekow, C. Sangster, P. Song, C. Stoeckl, M. L. Stowell, J. M. Teran, A. Throop, R. Tommasini, J. Vierne, D. White, P. Whitman,

"Assessment and Mitigation of Radiation, EMP, Debris and Shrapnel Impacts at Mega-Joule Class Laser Facilities",

J. Physics, Conference Series,

2010,

244

:

0320018,
Subhash Saini, Robert Ciotti, Brian TN Gunney, Thomas E Spelce, Alice Koniges, Don Dossa, Panagiotis Adamidis, Rolf Rabenseifner, Sunil R Tiyyagura, Matthias Mueller,

"Performance evaluation of supercomputers using hpcc and imb benchmarks",

Journal of Computer and System Sciences,

2008,

74

:

965--982,
Alice E Koniges, Brian TN Gunney, Robert W Anderson, Aaron C Fisher, Nathan D Masters,

"Development Strategies for Modern Predictive Simulation Codes",

Advances in Parallel Computing,

2008,

15

:

697--704,
DC Eder, AE Koniges, OL Landen, ND Masters, AC Fisher, OS Jones, TI Suratwala, LJ Suter,

"Debris and shrapnel mitigation procedure for NIF experiments",

Journal of Physics: Conference Series,

2008,

112

:

032023,
ND Masters, RW Anderson, NS Elliott, AC Fisher, BT Gunney, AE Koniges,

"Interface reconstruction in two-and three-dimensional arbitrary Lagrangian-Eulerian adaptive mesh refinement simulations",

Journal of Physics: Conference Series,

2008,

112

:

022017,
AC Fisher, ND Masters, P Dixit, DJ Benson, AE Koniges, RW Anderson, BTN Gunney, P Wang, R Becker,

"Hierarchical material models for fragmentation modeling in NIF-ALE-AMR",

Journal of Physics: Conference Series,

2008,

112

:

022027,
AE Koniges, C. Debonnel, J. Andrew, D. Eder, D. Kalantar, N. Masters, A. Fisher, R. Anderson, B. Gunney, B. Brown, K. Sain, F. Bonneau, J-L. Bourgade, J-M .Chevalier, P. Combis, A. Geille, J-P. Jadaud, R. Maroni, D. Raffestin, J-L. Ulmer, J. Vierne, M. Tobin, M. Meyers, H. Jarmakani,

"Experiments for the validation of debris and shrapnel calculations",

Journal of Physics: Conference Series,

2008,

112

:

032072,
Conference Papers
Presentation/Talks
Alice Koniges, Praveen Narayanan, Robert Preissl, Xuefei Yuan,
Proxy Design and Optimization in Fusion and Accelerator Physics,
SIAM Conference on Computational Science and Engineering,
February 25, 2013,
J. Barnard, R. M. More, P. A. Ni, A. Friedman, E. Henestroza, I. Kaganovich, A. Koniges, J. W. Kwan, W. Liu, A. Ng,
B.G. Logan, E. Startsev, M. Terry, A. Yuen,
NDCX-II Experimental Plans and Target Simulations,
West Coast High Energy Density Science Cooperative Meeting Berkeley and Palo Alto, California,
January 2013,
Alice Koniges, Katherine Yelick, Rolf Rabenseifner, Reinhold Bader, David Eder, Filip Blagojevic, Robert Preissl, Paul Hargrove,
Introduction to PGAS (UPC and CAF) and Hybrid for Multicore Programming,
SC12 Full Day Tutorial,
November 2012,
Michael A. Heroux, Alice E. Koniges, David F. Richards, Richard F. Barrett, Thomas Brunner,
Using Application Proxies for Co-design of Future HPC Computer Systems and Applications,
SC12 Full Day Tutorial,
November 2012,
Alice Koniges,
Opportunities and Challenges for Domain-Specific Languages in Fusion Applications,
ASCR Exascale PI Meeting,
October 2012,
Alice Koniges, Mike Heroux,
Using Applicaton Proxies for Co-design of Future HPC Computer Systems and Applicatons,
Dagstuhl Co-design Workshop,
May 22, 2012,
J. Kim, A. Koniges, R.L. Martin, J. Swisher, M. Haranczyk, B. Smit,
Computational Screening of Novel Carbon Capture Materials,
2012 GTC GPU Conference,
2012,
Cherri M. Pancake, Debra Goldfarb, Alice Koniges, Candy Culhane,
The View, HPC Edition,
SC11 Panel,
November 2011,
This panel will be a take-off on ABC's popular morning talk program. A lively format will be used to cover a number of controversial topics in the development and application of HPC. Four women from the HPC world will serve as "co-hosts," discussing topics with international experts associated with specific topics, such as Jean-Yves Berthou (European Exascale Software Initiative), Dave Turek (IBM), Ryan Waite (Microsoft), and Matt Fetes (venture capitalist). The goal is to air a variety of viewpoints in a lively and entertaining way. The panel will raise thought-provoking questions such as why the HPC community has such a hard time converging on standards, whether co-design is really affordable at HPC scales, why efficiency isn't our goal rather than scalability, whether exascale investments can really pay off, and why high-level languages haven't had real impact in HPC. Interactive polling will be used to involve the audience in charting a course for HPC's future - so be sure to bring your laptop or smartphone.
David Eder, David Bailey, Andrea Bertozzi, Aaron Fisher, Alice Koniges, Wangyi Liu, Nathan Masters, Marty Marniak,
Late-Time Numerical Simulations of High-Energy-Density (HED) Targets,
Twenty Second International Conference on Numerical Simulations of Plasmas,
September 7, 2011,
Alice Koniges,
Challenges and Application Gems on the Path to Exascale,
http://science.energy.gov/ascr/research/computer-science/programming-challenges-workshop/,
July 2011,
Alice Koniges, Robert Preissl, Stephan Ethier, John Shalf,
What's Ahead for Fusion Computing?,
International Sherwood Fusion Theory Conference,
April 2010,
Tim Frazier, Alice Koniges,
The National Ignition Facility Data Requirements,
SC08 BOF: Computing with Massive and Persistent Data,
2008,
Reports
Saman Amarasinghe, Mary Hall, Richard Lethin, Keshav Pingali, Dan Quinlan, Vivek Sarkar, John Shalf, Robert Lucas, Katherine Yelick, Pavan Balaji, Pedro C. Diniz, Alice Koniges, Marc Snir, Sonia R. Sachs,
"Exascale Programming Challenges",
2011,
CH Still, A Arsenlis, RB Bond, MJ Steinkamp, S Swaminarayan, DE Womble, AE Koniges, JR Harrison, JH Chen,
"NNSA ASC Exascale Environment Planning, Applications Working Group, Report February 2011",
2011,
A. E. Koniges, N. D. Masters, A. C. Fisher, R. W. Anderson, D. C. Eder, D. Benson, T. B. Kaiser, B. T. Gunney, P. Wang, B. R. Maddox, J. F. Hansen, D. H. Kalantar, P. Dixit, H. Jarmakani, M. A. Meyers,
"A Predictive Model of Fragmentation using Adaptive Mesh Refinement and a Hierarchical Material Model",
LLNL-TR-411072,
March 5, 2009,
Posters
Wangyi Liu, John Barnard, Alice Koniges, David Eder, Nathan Masters, Aaron Fisher, Alex Friedman,
"A numerical scheme for including surface tension effects in hydrodynamic simulation: a full Korteweg type model without parasitic flows",
APS DPP 2012,
2012,
Others
D C Eder, A E Koniges, N D Masters, A C Fisher, R W Anderson, K R Gaunt and D J Benson,
Fragmentation and penetration visualization from the multi-physics ALE-AMR code,
SciDAC 2009 J. Phys.: Conf. Ser. 180 013001,
June 15, 2009,
On Monday, June 15, 2009, the SciDAC 2009 conference sponsored an Electronic Visualization and Poster Night. Scientists involved in DOE Office of Science research, such as SciDAC, INCITE, and core-funded programs, were encouraged to submit an image or animation to be shown at this event. A DVD of those images and animations is attached to the inside back cover of this proceedings book.