Nick Cardo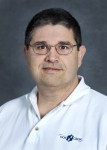 Computational Systems Group
1 Cyclotron Road
Mail Stop 943-256
Berkeley
,
CA
94720
Biographical Sketch
Nick Cardo is the IBM SP project lead. His previous experience includes system programmer and system analyst at NASA Ames Research Center and John von Neumann National Supercomputer Center in Princeton. Nick has developed a wide variety of utilities, kernel modifications, and algorithms for high performance systems, including one of the first full-production schedulers for the Portable Batch System (PBS). Nick earned a B.S. in Computer Science at the New Jersey Institute of Technology and an M.S. in Computer Engineering at San Jose State University.
Journal Articles
D. Skinner, N. Cardo,
"An Analysis of Node Asymmetries on seaborg. nersc. gov",
January 1, 2003,
Conference Papers
James M. Craw, Nicholas P. Cardo, Yun (Helen) He, and Janet M. Lebens,
"Post-Mortem of the NERSC Franklin XT Upgrade to CLE 2.1",
Cray User Group Meeting 2009,
Atlanta, GA,
May 2009,
This paper will discuss the lessons learned of the events leading up to the production deployment of CLE 2.1 and the post install issues experienced in upgrading NERSC's XT4 system called Franklin.
Yun (Helen) He, William T.C. Kramer, Jonathan Carter, and Nicholas Cardo,
"Franklin: User Experiences",
Cray User Group Meetin 2008,
May 4, 2008,
LBNL 2014E,
The newest workhorse of the National Energy Research Scientific Computing Center is a Cray XT4 with 9,736 dual core nodes. This paper summarizes Franklin user experiences from friendly early user period to production period. Selected successful user stories along with top issues affecting user experiences are presented.
Presentation/Talks
Yun (Helen) He and Nick Cardo,
Babbage: the MIC Testbed System at NERSC,
NERSC Brown Bag, Oakland, CA,
April 3, 2014,
James M. Craw, Nicholas P. Cardo, Yun (Helen) He, and Janet M. Lebens,
Post-Mortem of the NERSC Franklin XT Upgrade to CLE 2.1,
Cray User Group Meeting,
May 2009,
Yun (Helen) He, William T.C. Kramer, Jonathan Carter, and Nicholas Cardo,
Franklin: User Experiences,
CUG User Group Meeting 2008,
May 5, 2008,